Pabst Mansion
Introduction
The Pabst Mansion, built for Captain Pabst and his wife, Maria, now stands as a reminder of by-gone era, when wealthy beer brewers exerted tremendous influence over the city of Milwaukee. It was also another era when Wisconsin Ave. (then called Grand Ave.) was full of gorgeous mansions and contained one of the most exclusive neighborhoods in Milwaukee. Today Pabst Mansion is the last restored example of this past era.
Images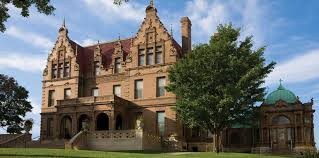 Backstory and Context
The Pabst Mansion was built for Captain Fredrick Pabst and his wife Maria. Construction for the house took approximately two years, beginning in 1890. Captain Pabst and Maria filled the house with pieces of fine art and exquisite furniture, as the house was the scene of many fine parties and receptions. Additionally, all five of Pabst's living children and their spouses lived in the mansion for a time. Captain Pabst, himself, lived in the house until his death on New Year's, 1904. His funeral took place in the house. When Mrs. Pabst later died in October, 1906, the house was passed on to the children.
Upon completion the mansion and furnishings cost a staggering $254,614 (the equivalent of $32.7 million in 2011 currency). The mansion was a total of 20,019 square feet with five floors, which included: 37 rooms, 10 bathrooms, 14 fireplaces, 210 windows, 137 doors, 3,328 bottles of wine and champagne (1904), 12 servants, 1 telephone, 14 hidden study compartments, 9 hops bud finials on the grand staircase, and 76 servant stairs from the attic to basement
1
. The mansion's total cost included the house, carriage house, greenhouse Pavilion and land.
In 1908, two years after Mrs. Pabst passed away, the Pabst descendants sold the house to the
Roman Catholic Archdiocese of Milwaukee. It became the archbishop's residence, as well as the center of the archdiocese, for over sixty years.
As the archbishop's residence, the mansion underwent several modernizing renovations. In 1975, the mansion was sold yet again, with plans to tear it down to make a parking lot. Three years of campaigning to save the mansion, however, paid out when the house was placed on the National Register of Historic Places in 1979 and opened to the public.
Sources
1) http://www.pabstmansion.com/history/pabst-mansion.aspx
Additional Information