Pioneer Courthouse, Portland
Introduction
The Pioneer Courthouse is the oldest extant federal building in the Pacific Northwest. The planning phase for the building began in 1869 as architects E.B. St. John and John H. Holman worked together to design the structure. This Italianate courhouse was completed in 1875 and remains one of the most significant landmarks in the city of Portland.
Images
Completed in 1875, Pioneer Courthouse is the second oldest federal courthouse west of the Mississippi.
This historic image of Pioneer Courthouse shows the former public school, which also featured the Italianate style of architecture.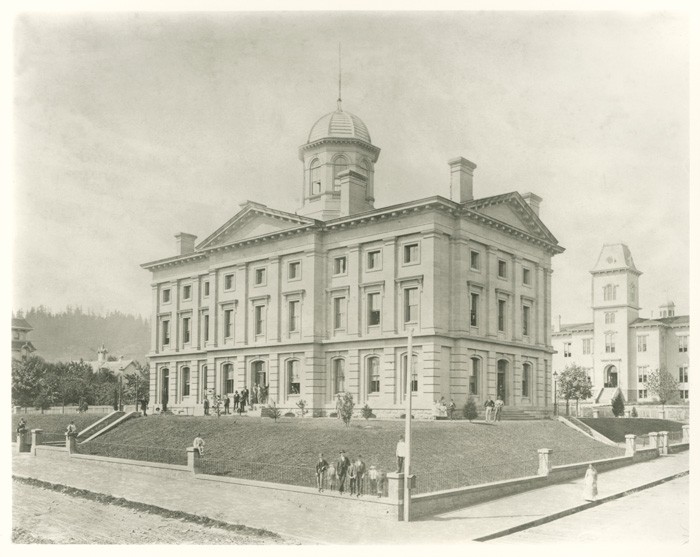 Backstory and Context
Completed in 1875, Pioneer Courthouse is the second-oldest federal courthouse in the American West and has served as a symbol of the city of Portland for nearly a century-and-a-half. Daniel Lownsdale used a large supply of leather in exchange as he purchased the land where the courthouse stands from Portland founding fathers Asa Lovejoy and Francis Pettygrove in 1848. The federal government purchased the land two decades later for the purpose of building this courthouse and transferring the federal court in this area from Salem to Portland. Construction occurred between 1869 and 1875.

The building has been home to hundreds of important decisions in federal cases involving land and other property disputes, Native American treaties, railroads, laws regarding immigration and the infamous 1882 Chinese Exclusion Act, mining, timber and forestry, and banking and commerce. One of the more interesting cases of the early 20th century heard at this courthouse, the Ninth Circuit judges found that students had a constitutional right to attend a parochial school in a 1923 case where leaders of the KKK attempted to abolish Catholic schools. Ten years later, this was the court where federal cases related to the exclusion of Japanese-American citizens and immigrants were heard. The court sent two cases to the US Supreme Court, which decided that the federal government could detain and relocate Japanese-American citizens in a pair of cases that have since been overturned.

Numerous U.S. Presidents have toured the building, including Benjamin Harrison, Theodore Roosevelt, and William Howard Taft. The building was supposed to be demolished and replaced by a newer structure in the 1940s. However, owing to the outbreak of World War II, the 1939 federal law authorizing the demolition of the courthouse and construction of a new facility was delayed and residents decided to preserve the building in the interim.
Sources
The Pioneer Courthouse Building. Pioneer Courthouse Historical Society. Accessed August 24, 2017. http://pioneercourthouse.org/.


Additional Information