Victoria Theatre
Introduction
The Victoria Theatre is a landmark of San Francisco and is the oldest operational theatre in the city. The Theatre itself was originally opened in 1908 as Brown's Opera House, which showcased vaudeville performances, as well as cinema of the time. The Theatre underwent a number of changes over the years, serving as a cinema, a Spanish-language specialty cinema, and a burlesque house. After a period of reconstruction, the Victoria Theatre currently hosts a variety of shows such as original plays, film festivals, and concerts, seating roughly 480 patrons.
Images
A street view photograph of the Victoria Theatre after being refurbished. From 2003.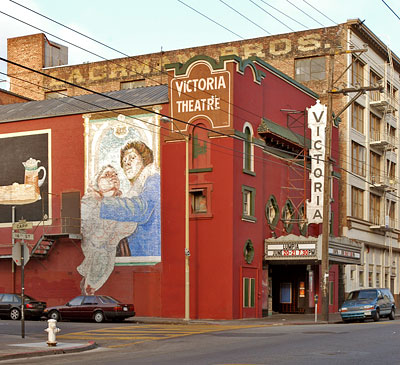 Backstory and Context
The Victoria Theatre was built in 1908 during the vaudevillian era by Edmund Joseph Brown, and was originally named Brown Opera House after its founder. The Brown Opera House held steady business for several decades, but as vaudeville began to fall out of style, it was in need of some change in order to reflect the changing tastes of San Francisco's population. In the 1930s, the Brown Opera House changed its name to the 16th Street Theater, serving solely as a second-run movie theater. The theater showed movies for half their original run price, and would offer glassware to patrons as a way to entice moviegoers. This was only the first of several changes the building would face, however.

As San Francisco began to see a greater Latino population in the 1950s, the theatre changed names once again, this time to El Teatro Victoria. Along with the name change, it mostly showcased Spanish-language movies in order to serve the Latino population. In the 1960s, a time when other theatres in the area were being torn down or remodelled to suit other purposes, the Victoria changed once again, this time into a burlesque house, Follies Burlesque, which it stayed as until the 1970s, when it was shut down for renovation.

The Victoria was under repair and renovation for around two years, after which it reopened as The Victoria Theatre, as it remains today. The Theatre does not serve as a speciality for one form of entertainment or another, but hosts a variety of different shows. One might find original plays, musicals, film festivals, and a host of other kinds of performances.

Sources
San Francisco Landmark #215 Victoria Theater. NoeHill in San Francisco. Accessed February 18, 2017. http://noehill.com/sf/landmarks/sf215.asp.


Additional Information