Seneca Caverns
Introduction
These ancient caverns began forming around 460 million years ago. The caverns are named in honor of the Seneca tribe who utilized the cave shortly before the arrival of Europeans. Laven Teter also discovered the cave in 1742 and acquired the land which remained in his family until 1928. The cave is now a leading area tourist destination among families and outdoors adventurers. The cave maintains a temperature of about 54 degrees year round. Visitors to the area can tour the cave with local guides and is one of a hundred caves in the Germany Valley of Pendleton County.
Images
The cave is one of four caves in West Virginia that offer daily guided tours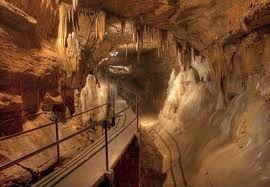 Backstory and Context
The cave was likely utilized by Native tribes for thousands of years prior to European contact as the area was located along a well-traveled network of trade routes. Visitors to the cave can see a variety of rock formations within the "rooms" of the cave, the largest of which has been named Teter Hall in honor of Laven Teter who discovered the cave while looking for water.
Additional Information