Five Mile Point Light
Introduction
Sitting on the harbor entrance to the Long Island Sound and located about five miles away from downtown New Haven, the Five Mile Point Light has endured as a prominent and historical New Haven fixture for over 200 years. First established as a 30-foot octagon wooden tower in 1805, the lighthouse currently residing in Lighthouse Point Park stands over 70 feet and draws thousands of lighthouse enthusiasts and park-goers every year. Although the beacon in this iconic New England lighthouse has been deactivated since 1877, the Five Mile Point Light once extended welcoming arms to both ships and sailors entering the Long Island Sound. Furthermore, with the current brownstone and brick lining lighthouse tower dating back to 1847, the Five Mile Point Light showcases the unique lighthouse construction techniques and lighthouse designs prominent throughout New England in the 19th century.
Images
View of the Five Mile Point Light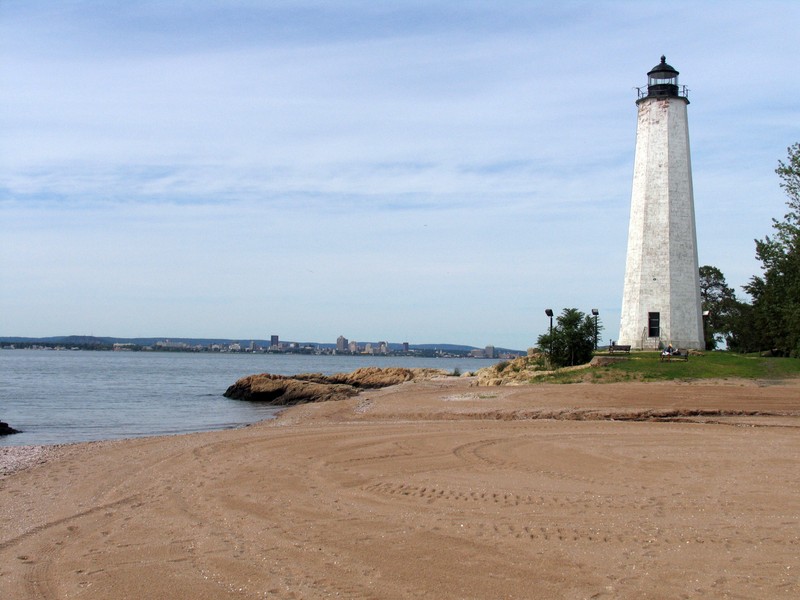 Image of the Five Mile Point Light, circa 1901-1906.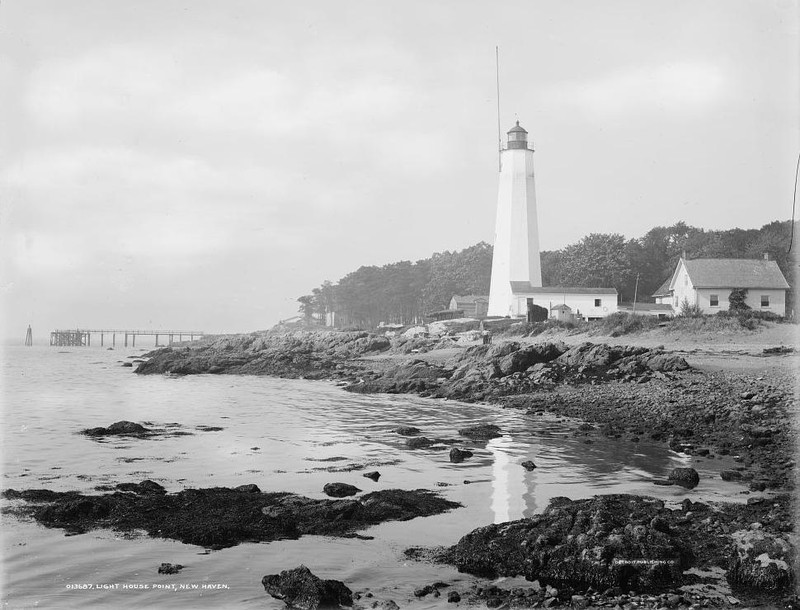 Backstory and Context
Although the Five Mile Point Light better reflects the maritime history of New Haven, many local historians often point to the fact that Lighthouse Point Park was also the scene of a prominent Revolutionary War battle, where British soldiers attempted to land on the shore and invade New Haven. With the sale of the land to the government in 1801 for $100, plans were made to build a lighthouse and mark the entrance to the New Haven Harbor.
Towards the end of 1805, famed lighthouse constructor Abisha Woodward helped build the original tower on the southwest edge of the harbor. This 30-foot octagonal wooden tower featured 8 oil lamps and 13-inch parabolic reflectors arranged on a circular table, and surrounding the top of a tower, an iron lantern supposedly burned whale oil and was said to be seen from 5 to 12 maritime miles away. Unfortunately, because of its weak light and low elevation, at least one ship crashed upon the rocks and was destroyed.1
Original and Current Structure

There were six lighthouse keepers who worked at the original structure, including Amos Morris, Jr. (who originally sold the lighthouse land to the government in 1801), Wedmore, Jonathan and William Finch, Elihu Ives, and George W. Hicks. Because of the original lighthouse's limitations, Congress appropriated around $10,000 for a new lighthouse in 1847.
The Five Mile Point Light (as well as most Connecticut lighthouses) featured the trademark octagonal shape and stood over 70 feet, and within the sandstone and brick construction, 74 winding steps once took the lighthouse keepers from its base to the lantern. The first light on this tower used 12 lamps with 20 one-inch reflectors, and by 1855, the light in the tower was upgraded to the iconic fourth-order Fresnel lens.
Lighthouse Point Park

Trips to Lighthouse Point Park typically include lounging on the public beach, fishing or using the public boat launch, having a picnic, or playing on the swings. However, no matter where visitors are in Lighthouse Point Park, the Five Mile Point Light towers over everything and creates breathtaking panoramas. Because of the long and rich history associated with this landmark lighthouse, it was placed on the on the National Register of Historic Places in 1990.2
Sources
1.) http://www.lighthousefriends.com/light.asp?ID=795 2.) http://www.cityofnewhaven.com/parks/parksinformation/lighthousepoint.asp#phone
Additional Information