Theodore Roosevelt National Park
Introduction
If you are looking for outdoor adventure, visitor centers and museums, then Theodore National Park should be on your list of places to visit. There are an unlimited amount of activities to do in the park such as, horseback riding, fishing, hiking, and biking.
Images
A photo taken of the park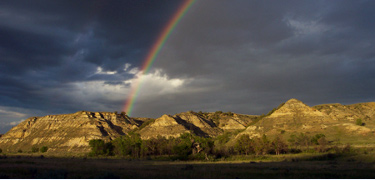 Backstory and Context
The South Unit entrance is in Medora, ND. Medora is accessible via Interstate 94 Exits 24 and 27 in North Dakota. Medora is 133 miles west of Bismarck, ND and 27 miles east of the Montana state line.
When Theodore Roosevelt first saw the badlands of North Dakota, he fell in love with them. His interests in hunting and conservation prompted him to buy two ranches there and began to publish articles in eastern publications about his hunting and ranching experiences. It was a place of solitude especially after his wife's death.
After Theodore Roosevelt's death in 1919, plans for a possible park in his memory were pursued. The Civilian Conservation Corp. made many of the roads and structures for the future park and some are still in use.
The park was named the Roosevelt Recreation Demonstration Area in 1935. The United States Fish and Wildlife Service renamed it the Theodore Roosevelt National Wildlife Park but it became the Theodore Roosevelt National Memorial Park under President Harry Truman on April 25, 1947. Additional boundaries and acreages were added in 1978. The name is now Theodore Roosevelt National Park.
The main attractions of the park are wild life viewing, scenic drives and foot trails and the seasonal changes of the terrain. The park that attracts approximately 563,407 yearly is governed by the National Park Service.
Additional Information