Mordecai Historic Park
Introduction
This historic park is located on land that was once the largest plantation in Wake County. The historic park includes a visitors center as well as the Mordacai House-the oldest home in the city (with the exception of smaller structures that were preserved but moved from their original location). Visitors to the historic park can also visit the home where President Andrew Johnson was born.
Images
The Mordecai Plantation House, built by architect and Father of Raleigh, Joel Lane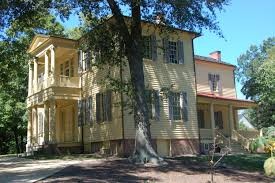 Park grounds include plantation homes, museum, greens, and chapel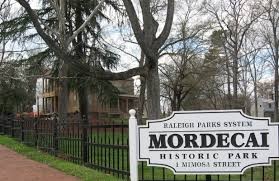 Backstory and Context
The home is named after Moses Mordecai, a member of a prominent local Jewish family whose father operated a school for girls in Warrenton. Moses Mordecai acquired this mansion when he married into the Lane family in 1817. The home was built in 1785 by Joel Lane, the man who is best known for acquiring and selling the land that would eventually become the city of Raleigh at a tremendous profit. Joel gave the home as a wedding gift to his son, Henry Lane. Henry Lane died at the age of 33 and Moses Mordecai married Henry's oldest daughter Peggy in 1817-thereby becoming the owner of this property. When Peggy died in 1817, Moses married her sister Anne. Moses died shortly thereafter, and the property passsed to Moses' son Henry.

The Lane family had acquired 14 slaves who worked in the home and throughout the 2000-acre plantation. Moses Moedacai, like many other North Carolina planters in the early 1800s, expanded his plantation and focused on producing cotton. Henry Mordacai shifted production to corn in the 1850s, likely a reflection of the ways that producing cotton depleted the soil and the shift towards cotton production in the "new lands" to the west. Records indicate that Henry Mordacai was a particularly cruel master.
Sources
Mordecai Family History, from Mordecai Historic Park. https://www.raleighnc.gov/parks/content/ParksRec/Articles/Parks/Mordecai.html
Additional Information