Old Town Pocatello
Introduction
From specialty shops to fine international cuisine, Old Town Pocatello is a magnet for people looking for a unique, historic experience. The Historic Walking Tour features buildings listed on the National Historic Registry with the dates like 1892 and 1903, whose architecture is as beautiful today as when first built. These buildings are alive with antiques, sporting goods, books, bakeries, restaurants, art galleries and more. Pocket parks are scattered throughout the area, some with beautiful public art pieces and others with water fountains and benches. Events and entertainment includes outdoor summer concerts, haunted history tours and the Portneuf Valley Farmers Market featuring a variety of locally grown produce. There's always something happening in the historic heart of Pocatello.
Images
Pocatello is the county seat of Bannock County and is nicknamed the "U.S. Smile Capital"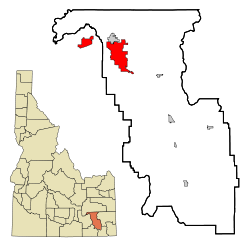 Downtown Pocatello in 2007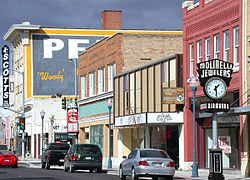 Backstory and Context
Pocatello is a unique city, not only in the name it shares with no other, but because of its Downtown Historic District. This district is architecturally and historically significant and is one of the region's most diverse and well-preserved urban streetscapes. Founded in 1882 and named for a chief of the Shoshoni-Bannock Indian tribe, Pocatello began as a collection of boxcars and construction workers' tents on the Indian reservation where 40 acres had been set aside for the railroad. A special act of Congress on September 1, 1888, created the original town site and a temporary business district was developed.

Pocatello owes its foundation and much of its continued development to the railroad industry. With the construction of the Utah, Northern route in 1878 and the Oregon Short Line in 1882, Pocatello's future as a north-south junction point became assured. The appellation of "The Gate City" was acquired because of Pocatello's early importance as a junction point and rail route through the mountains.
The Old Town Historic District encompasses all or part of eighteen city blocks and is composed primarily of two and one-story commercial buildings. The primary building material throughout the district is brick, although hand-hewn stone and terra cotta were also used. The predominant facade line on the top of many second floors is accentuated by sheet metal cornice. A variety of architectural styles is represented in the district, including Gothic Revival, Romanesque Revival, Sullivanesque, and Art Deco, as well as many adaptations of early 20th century commercial styles with classical details rendered in either sheet metal or terra cotta.
Sources
http://www.oldtownpocatello.com/learn/history/
Additional Information