Marlinton Chesapeake & Ohio Railroad Station and Bunkhouse
Introduction
The Chesapeake and Ohio Railroad Station and Bunkhouse are located at the corner of 8th Street and 4th avenue, in the town of Marlinton, West Virginia. The station is a small rectangular one story building that measures 76 by 16 feet; built for the handling of freight and for passenger use. The bunkhouse, a dependent building of the railroad station, is located a short distance to the northeast and is also a one story building that measures 24 by 16 feet. The buildings were added to the National Register of Historic Places in 1979 because of their architectural features which were new for their time and for their importance to the town of Marlinton.
Images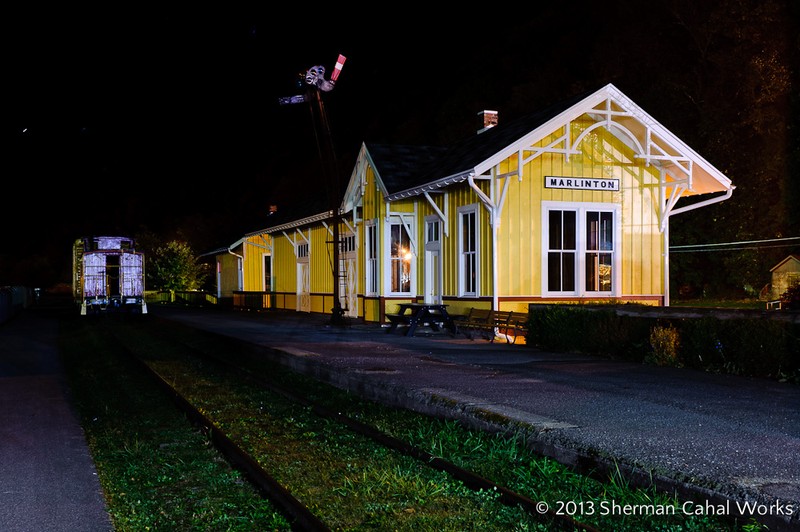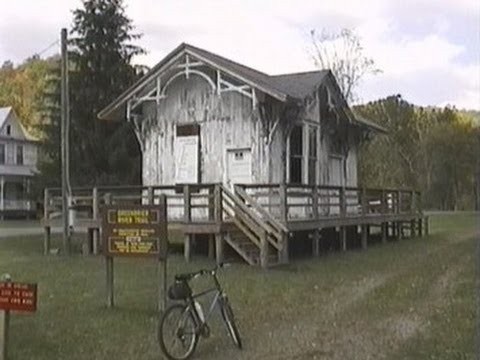 Backstory and Context
Both of the buildings were built in 1901 and featured vertical board batten siding and decorative brackets in the wide eaves of their gable roofs. While the station was in use, there was a loading platform that extended across the west and south sides. The station is brightened by beautiful Victorian millwork and has two brick chimneys that were used with wood and coal burning stoves.
The foundations of the buildings are big, wooden piers that are set on concrete footers and hidden from view by vertical boards skirts at the building's sides and rear. This kind of supporting structure was highly uncommon for the time period in which the station and bunker were built. A gabled bay embellished with wood tracery and fitted three windows formed the station agent's office. It once contained a colored semaphore which was used to help the trains navigate. It was in use until the advent of electricity, when a lighted semaphore was put into place to better serve the engineers trying who were navigating their way towards their destination.
The station is no longer in use today and is one of the few remaining buildings of sort that were built throughout the C&O Railroad system. The company built many of these structures for terminals, passenger use, and freight depots in populated areas. These buildings were a necessity for traveling people and served as a trademark of the railroad company. The station, once a trademark for the C&O Railroad, still stands today as a symbol of the company's willingness to bring commerce and business to the area.
Sources
"Marlinton Chesapeake and Ohio Railroad Station and Bunkhouse" http://www.wvculture.org/shpo/nr/pdf/pocahontas/79002598.pdf 8/29/79
Additional Information