San Francisco Bay Discovery Site
Introduction
This historical marker designates the spot where, in 1769, a Spanish expedition led by Gaspar de Portola, "discovered" San Francisco Bay. Portola and his men were the first Europeans to see and record the existence of the bay. Subsequent Spanish expeditions would explore it further. Eventually, a fort (the Presidio of San Francisco, founded in 1776) and missions would be established, marking the beginning of San Francisco's long history. The marker is situated at the point where the Portola Expedition came across Sweeney Ridge and discovered the bay, near the town of Pacifica. The site is a National Historic Landmark.
Images
This stone marker commemorates the first-recorded European sighting of San Francisco Bay.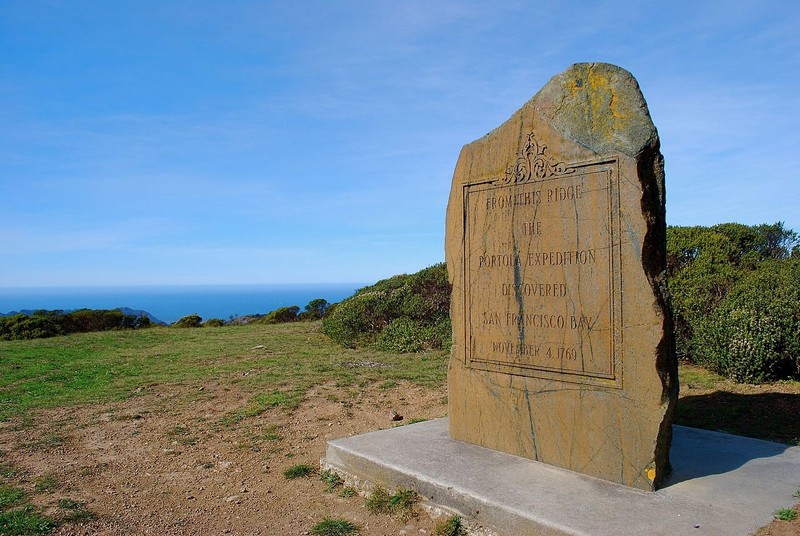 Backstory and Context
The Portola Expedition took place in 1769 and was lead by Captain Gaspar de Portola. He commanded a group of about 60 men for this expedition. They were on their way from San Diego looking for Monterey Bay. Moving through the valleys, the group was near the bay but could not see it from their specific location.
Then on November 1, 1769, a group of scouts, led by Sergeant Ortega, discovered San Francisco Bay after crossing Sweeny Ridge. It took them two days to return to camp and provide Portola with the bay's location. After a three-day trek, they finally reached the point to lay eyes on San Francisco Bay. The setup camp soon after so Ortega and his men could scout the eastern side of the bay. Ortega returned days later with grim news. He had encountered land unsuitable for agriculture and very hostile Indians. As a result, Portola decided to head back to San Diego.
Sources
McKithan, Cecil. "San Francisco Bay Discovery Site." National Park Service - National Register of Historic Places Nomination Form. May 23, 1968. https://npgallery.nps.gov/GetAsset/82189212-2363-4599-8202-02fa95f087dd.

"San Francisco Bay Discovery Site." National Park Service - Golden Gate National Recreation Area. Last updated June 16, 2015. https://www.nps.gov/goga/learn/historyculture/san-francisco-bay-discovery-site.htm.

Photo: Wikimedia Commons
Additional Information