Cambern Dutch Shop Windmill (Lorien Herbs and Natural Foods)
Introduction
The Cambern Dutch Shop Windmill is a small, historic commercial building located in Spokane, Washington. It is now an organic food store called Lorien Herbs and Natural Foods. It was built in 1929 and designed by Charles Wood to resemble a Dutch windmill. The store is owned by Roger and Chris Imes and it sells over 400 herbs, supplements, teas, and holistic medicinal products. Its name comes from the Lord of the Rings trilogy; "Lorien" means "a place for good food" in the Elvish language created by author J.R. Tolkien. The building was listed on the National Register of Historic Places in 1989.
Images
Exterior view of the windmill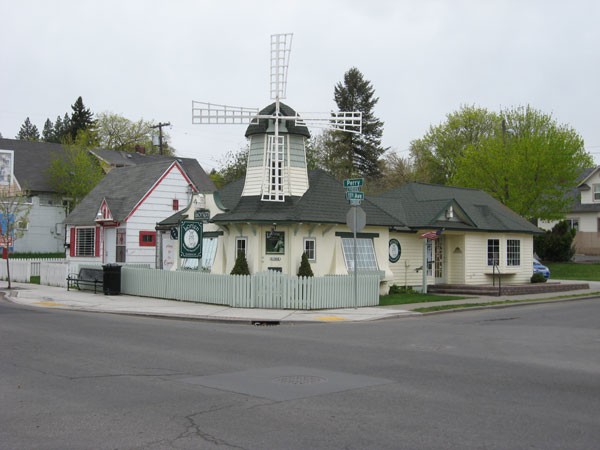 Backstory and Context
The Cambern Mill was one of at least 9 other similar structures built by brothers Robert and Cecil Cambern, who owned a large wholesale and dairy business. They started their business in 1924 and did very well. Eventually, they wanted to sell directly to customers and hired Charles Wood to design small shops that looked like Dutch windmills. The brother's trademark was "Dutch Main", so they thought the windmills would attract customers. The Great Depression ruined the business and sold the windmills to Ken McWilliams who continued to sell "Dutch Main" products but eventually all of the windmills were sold by 1943. The building continued to be used for various commercial purposes. Roger and Chris Imes opened their store in 1977.
Sources
"Cambern Dutch Shop Windmill". http://properties.historicspokane.org/property/?PropertyID=1989. Retrieved 4-16-15. Campau, Nancy. "Cambern Dutch Shop Windmill," National Register of Historic Places. 3-16-89. http://properties.historicspokane.org/_pdf/properties/property-1989.pdf "History." http://www.lorienherbs.com/history.html. Retrieved 4-16-15.
Additional Information