Site of 1964 protests against Robert C. Byrd for attempting to filibuster the Civil Rights Act
Introduction
The late Senator Robert C. Byrd is widely regarded among most West Virginians, however, following his 14-hour filibuster on June 10, 1964, in which he attempted to derail the passage of the 1964 Civil Rights Act, African Americans in Charleston took to the streets in protest. Undeterred by the opposition of African Americans and many white residents of West Virginia, Byrd was forced to end his filibuster after the Senate voted 71 to 29 for cloture so that they could vote on the measure. The bill passed despite the opposition of Byrd and most Southern Representatives and Senators. In his later years, Byrd issued an apology for attempting to derail the bill. In his 2005 autobiography, Byrd both credits individual Klan members for helping him develop skills and contacts that proved instrumental in his political career but also advised young people to avoid association with the Klan as it would be a detriment to their future career. He also apologized more directly in that autobiography and called his association and support of the Klan the biggest mistake of his life.
Images
A photo of African-Americans protesting Robert C. Byrd for filibustering the Civil Rights Act bill.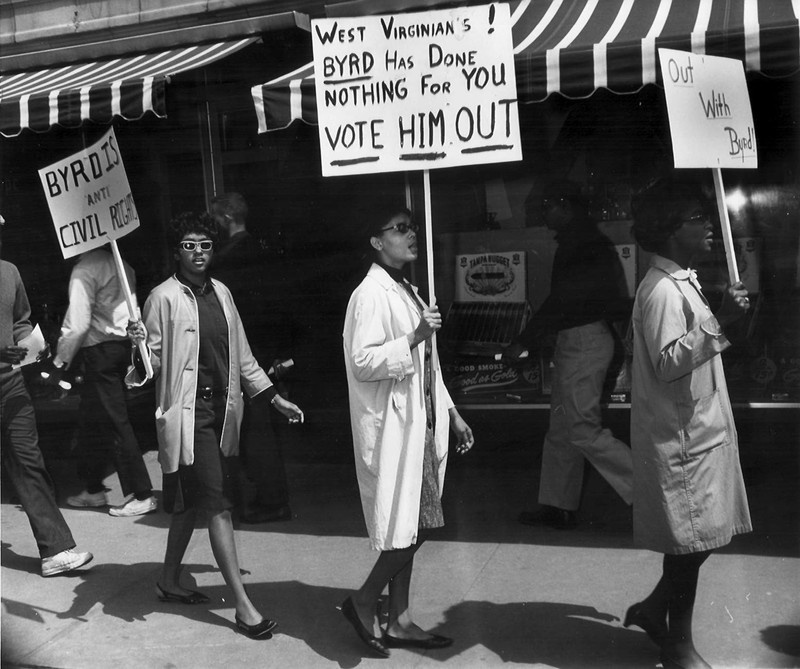 Roberet C. Byrd and Governor Hulett C. Smith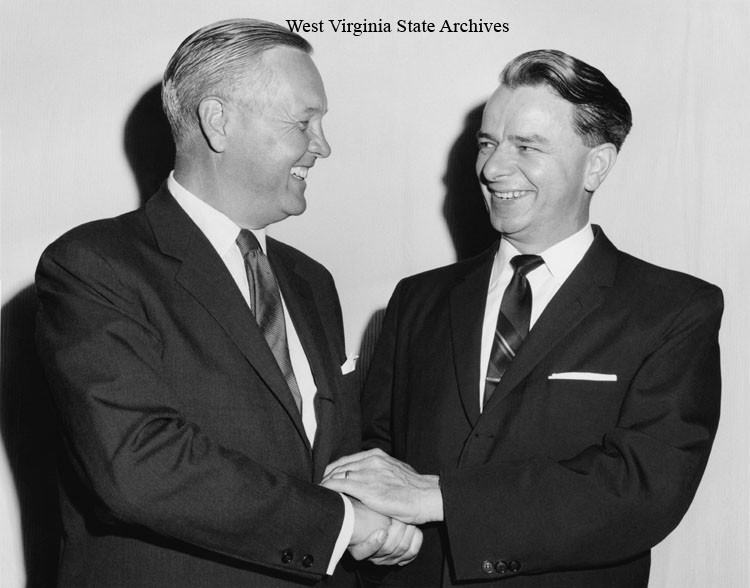 "Garb Different but Byrd the Same." Charleston Daily Mail(Charleston), June 11, 1964.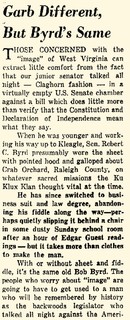 Backstory and Context
In addition to the downtown protest march by local African Americans, the Charleston Daily Mail (now Charleston Gazette-Mail) published a scathing editorial against Byrd's action that stated he had merely abandoned the sheets of his former Raleigh County klansmen for the suits and demeanor of a businessman and politician. "With or without the sheet and fiddle, it's the same old Bob Byrd" the editorial concluded.   
The longest-serving member in Congress, Robert Byrd was a Democratic U.S. Senator from 1959-2010 who embraced the worldview of white Southern Conservatives in an era that saw significant political realignment. By the 1970s, the Republican Party had moved to the political right on matters regarding civil rights while Democrats were typically more supportive- a reversal from the post Civil War era when the majority of African Americans supported the "Party of Lincoln" during Reconstruction and the first half of the 20th century. That political realignment saw a substantial shift in American politics that accelerated in the first decades of the 21st century with African Americans representing a core constituency in the Democratic Party of the modern era.
Byrd was one of a few conservatives Southern Democrats who remained hostile to civil rights until the later years of his career. At the time of this protest, Byrd supported segregation but had cut ties with the Klan. The conservative Democrat would later apologize for previous support of the KKK, saying that he was ashamed that he had once been a member and explaining that he, like many other members, were misled by the prevailing sentiment of those around him. Byrd said he was mistakenly impressed by Ku Klux Klan parades that he witnessed in his youth. Byrd joined the KKK in 1942.
Byrd was eventually elected Exalted Cyclops of his local chapter. In the 1940s, Byrd was a rising star and active recruiter for the Klan. In 1946, he wrote to Theodore Bilbo, a now-notorious Mississippi politician who advocated violence against African Americans who sought equality. In the letter, Byrd stated unequivocal support for both Bilbo and the KKK. "The Klan is needed today as never before," Byrd wrote, and I am anxious to see its rebirth here in West Virginia and in every state in the nation." In 1952, Byrd broke ties with the Klan. In that same year, he entered politics and ran for a seat in the House of Representatives.
Byrd's early votes in Congress reflected his roots in Southern anti-Black, anti-Catholic and anti-Semitic teachings. Byrd denounced civil rights leader Martin Luther King as a "self-seeking rabble rouser." Byrd maintained his pro-segregation stance into the mid-1960s. He and other Conservative Southern Democrats attempted to obstruct the Civil Rights Act of 1964 by launching a filibuster to prevent a vote on the measure. As the floor manager for the pro-segregationist wing of his party, Byrd argued that the authors of the Declaration of Independence "did not intend that these words should be taken literally to be true" when they wrote that "all men are created equal." Byrd continued: "Between two individuals, as between two races, there are broad differences." Towards the end of his life, Byrd said his opposition to civil rights was the greatest mistake and apologized for his actions.
Sources
Peeks, Edward "Civil Rights." e-WV: The West Virginia Encyclopedia. 11 August 2015. Web. 19 August 2017.
Gutman, David. West Virginia has a complicated history with race and civil rights. Charleston Gazette-Mail. June 30, 2014. Accessed August 19, 2017. http://www.wvgazette.com/article/20140630/GZ01/140639991.
Byrd, Robert C.. Robert C. Byrd: Child of the Appalachian Coalfields. Morgantown. West Virginia University Press, 2015.
"Senate Votes to Curb Civil Rights Filibuster." Charleston Daily Mail(Charleston), June 10, 1964.
"Garb Different but Byrd the Same." Charleston Daily Mail(Charleston), June 11, 1964. 
Additional Information