Log House in East Palestine
Introduction
The Log House was originally built in 1840 and originally stood at the corner of West Main Street and Walnut Street. It was also the home of the first physician in East Palestine who practiced for 30 years. The cabin was given to the East Palestine Historical Society and the site is owned by the East Palestine City Park. The house is now located on Bacon Avenue.
Images
The Log House was built in 1840.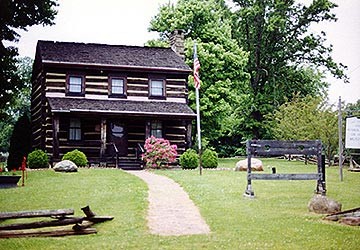 Backstory and Context
The Log House is said to have been first occupied by a family known as the Ryans. Soon after, the house was bought and occupied by Dr. Robert Chamberlain and his wife Rebecca Taggart. Robert Chamberlain came to Columbiana County at age 20 and later graduated from Jefferson Medical College in Philadelphia. He established a practice in East Palestine as the first town physician that lasted almost 30 years. In addition, he was a surveyor for the Ohio and Pennsylvania Railroad and helped lay track from the Ohio River to Salem Ohio. He established the first store in town and was the first postmaster of the own. He also found time to serve as Township Trustee in 1834, Township Clerk in 1839 and County Surveyor in 1844. Chamberlain died in 1876, and in 1886, the Log House was moved to what is now 36 North Walnut Street.
The new site was made up of property purchased from Mrs. Chamberlain and George Renshaw by George Young in 1896 and the property was sold by him in 1903 to David and Emma Cassiday. The house was sold frequently and went through a series of owners. In 1908, it was purchased by L. L. Wilson who sold it in April of the same year to John and Maria Spieler. John Speiler sold it to John and Mary Chuck who lived there for 17 years.
The Chuck family then sold the property to Mr. Chuck's sister and her husband, John and Mary Bozick who lived in the house for 51 years. In 1978, Mary Bozick, a daughter of John and Mary, gave the house to the East Palestine Area Historical Society. The house was then moved once more and it is now located at 555 Bacon Avenue. This property is owned by the East Palestine City Park. It has been restored to its closest original condition.
Sources
"History of the Log House." East Palestine Historical Society. Accessed April 16, 2015. http://www.eastpalestine-oh.gov/historical.
Additional Information