Emmett Till Gravesite
Introduction
This is the final resting place of Emmett Louis Till, a young African American boy who was brutally murdered in Money, Mississippi in 1955 at the age of 14. Till was killed by two white men for allegedly whistling at a white woman. Mamie Till, the boy's mother, chose to have an open-casket funeral for his son to draw attention to the brutality of his murder and the violence that still plagued African Americans nearly a century after slavery ended. Photos of the funeral made national headlines, as did the acquittal of the two white men who killed Till and mutilated his body. As a result, this tragic and brutal murder led many Americans to pay greater attention to the violence that African Americans faced as they attempted to register to vote or integrate places of public accommodation. Mamie Till became a civil rights activist and a teacher in the public schools. She is buried at Burr Oak near the Southeast entrance to the cemetery.
Images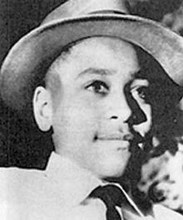 Emmett Till in casket at funeral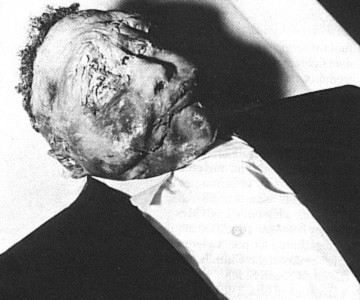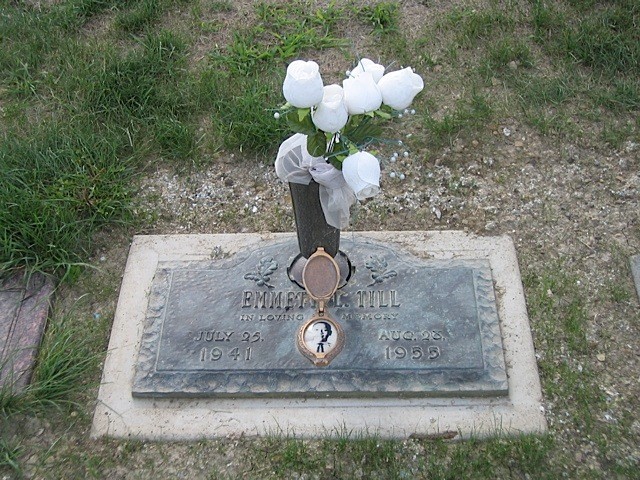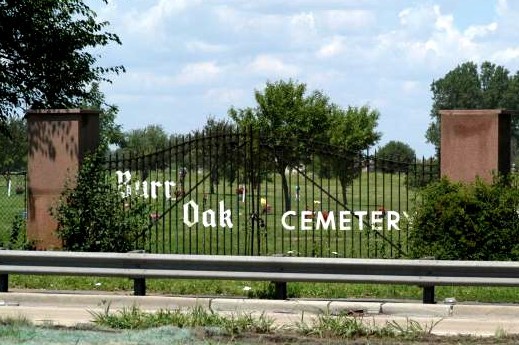 Backstory and Context
Emmett Till was from Chicago and was visiting his relatives in Money, Mississippi when he allegedly whistled and/or flirted with Carolyn Bryant. Bryant and her husband owned the grocery store where the incident occurred. Several nights later, according to prosecutors and the confession of the two men as published later in Look Magazine, Bryant's husband Roy and his half-brother J. W. Milam went to Till's great-uncle's house. They took Till away to a barn, where they beat him and gouged out one of his eyes before shooting him through the head. The two men mutilated Till's lifeless body and threw it in the Tallahatchie River, weighting it down with a 70-pound cotton gin fan tied around his neck with barbed wire.

Till's body was discovered three days later and retrieved from the river. The following is an excerpt from an FBI report following the murder: "Milam and Bryant described Till as defiant, even during his pistol-whipping in the barn. According to the two men, Till said, "You bastards, I'm not afraid of you. I'm as good as you are. I've had white women." Milam said, "When a nigger gets close to mentioning sex with a white woman, he's tired of living. I'm likely to kill him...I stood there in that shed and listened to that nigger throw that poison at me, and I just made up my mind." After the pickup left the farm, it stopped briefly at J. W. Milam's store in Glendora. There, a witness noticed "blood running out of the bed of the truck and pooling on the ground." When the dripping blood was pointed out to Milam, when he returned to his truck, J. W. claimed that he killed a deer. When Milam was told it was not deer season, he allegedly pulled back the tarpaulin in the bed to reveal Till's body and said, "This is what happens to smart niggers." When the jurors were sent out to begin deliberations, according to Hugh Whitaker, Sheriff-elect Dogan told jurors to wait a while before coming out to make "it look good."

The jurors enjoyed Cokes before returning 68 minutes later to the courtroom to announce their verdict of "Not Guilty." Six weeks after the murder trial, a Leflore County grand jury refused to indict Bryant and Milam on kidnapping charges, and both men were released from custody. At the funeral, Emmett's mother decided to have an open casket funeral to show the world what had happened.

Sources
Emmett Till Murder Trial, University of Missouri-Kansas City, accessed 6/30/2017 http://law2.umkc.edu/faculty/projects/ftrials/till/tillaccount.html
Additional Information