William Monroe Trotter House
Introduction
This is where journalist and civil rights activist William Monroe Trotter (1872-1934) lived for most of his life. He spoke out against racism in many forms including by launching a weekly newspaper on race relations called The Guardian, which was an overnight success. Many meetings took place at the house with other prominent civil rights activists. It was here that W.E.B Du Bois and Oswald Garrison Villard founded the National Association for the Advancement of Colored People (NAACP). The house was added to the National Register of Historic Places and designated a National Historic Landmark in 1976 for its association with Trotter and the Civil Rights movement. It is a private home but is easily visible from the street.
Images
Front of Trotter House Photograph courtesy of the Boston Landmarks Commission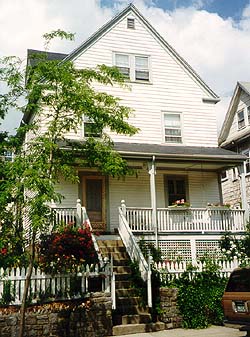 Activist William Monroe Trotter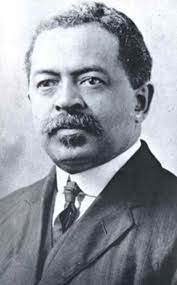 "The Guardian of Boston: William Monroe Trotter," by Stephen R. Fox (see link below)
Backstory and Context
Trotter was born in Ohio on April 7, 1872 but grew up in Boston in a well-to-do family. He was an excellent student and excelled in school, graduating at the top of his class at an all-white high school and attending Harvard University, where he graduated magna cum laude. He was also the first African American to earn admittance into the Phi Beta Kappa.
Trotter dedicated his whole life fighting for civil rights. He co-founded several organizations including the Boston Literary and Historical Association in 1901, to which other prominent African American activists belonged, notably W.E.B. Du Bois and Oswald Garrison Villard. As mentioned above, Trotter founded a newspaper called the Boston Guardian, which provided him with a vehicle to express his views. In 1905, Trotter was a founding member of the Niagara Movement, the precursor to the NAACP.
Trotter bought the house in 1899, which was built sometime in the 1880s-1890s. Over time, he paid less attention to his real estate business and dedicated more time to his newspaper. As a result, his finances suffered and he eventually lost his home and even some friends. Despite these troubles, he never gave up fighting for the civil rights of African Americans.
That said, his years of hard (and unfulfilled, in terms of achieving rights for African Americans) work did take its toll. For various reasons, both presidents Theodore Roosevelt and Woodrow Wilson disappointed him greatly. He actually met Wilson on two occasions but Wilson did not commit to any policies regarding the African American community. Although Trotter did not live long enough to see his dreams of equality realized, his legacy is not forgotten. He died in 1934.
Sources
Graves, Lynne G. "William Monroe Trotter House." National Park Service - National Register of Historic Places Nomination Form. https://npgallery.nps.gov/GetAsset/8c121e75-a032-43d7-a104-59e8b2f6513b.

"William Monroe Trotter House." National Park Service: Historic Places of the Civil Rights Movement. Accessed April 11, 2015. http://www.nps.gov/nr/travel/civilrights/ma1.htm.
Additional Information