Salem Museum and Historical Society (Williams-Brown House)
Introduction
The Salem Museum and Historical Society, located in Salem, Virginia, is an educational and cultural center dedicated towards preserving the history of Salem. It is housed in the historic Williams-Brown Home, which was built in 1845 by William C. Brown. The house was both named to National Register of Historic Places and the Virginia Landmarks Register in 1971. The museum contains Native American artifacts from a local site, Civil War artifacts, and artifacts from daily life in the 19th century. The museum has many programs and activities. Local artists can display their work in a gallery, the museum publishes books and articles about local history, it hosts workshops and other programs, and it has an historical herb garden.
Images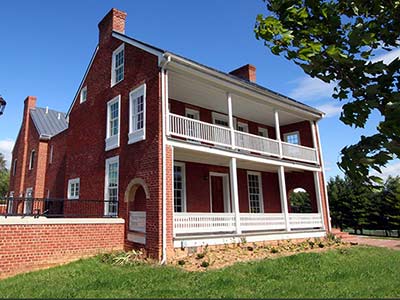 Backstory and Context
William C. Williams was a merchant and hotelier as well as an amateur builder. He designed a number of buildings including the Roanoke County Courthouse, which operated from 1841-1909. The house was his residence and general store. It is the only one of his buildings to survive. His daughter, Mary, married Joshua Brown and they lived in the house and ran the store after Williams died. Their son, William Brown, lived in the house for the rest of his life. After that, it became a fraternity house for Roanoke College, then and office, then was divided into apartments. By the 1980s the house was vacant and in bad condition. Local residents saved the house from demolition and donated it to the Historical Society. It was moved to its current location in 1987 and renovated in 1992. It was expanded in 2010.
Sources
"About the Williams-Brown House". http://www.salemmuseum.org/williamsbhouse.aspx. Retrieved 4-9-15. Historic Landmarks Commission Staff. "Williams-Brown House-Store", National Register of Historic Places. 11-23-71. http://www.dhr.Virginia.gov/registers/Cities/Salem/129-0010_Williams-Brown_House_and_Store_1971_Final_Nomination.pdf
Additional Information