Missouri Arboretum
Introduction
In 1993, Northwest Missouri State University's campus was named the official state arboretum by the Missouri legislature. The decision was a reflection of the college's history of cultivating trees and other species dating back to the mid-19th century when Thomas Gaunt owned the land that would become the heart of the college campus. Gaunt operated a nursery and cultivated the land that was later donated by his descendants to form this campus. Through over a century of careful planning and intentional protection, the tree-strewn campus, which has been honored by the state legislature.
Images
Northwest Missouri State University is the official Missouri State Arboretum.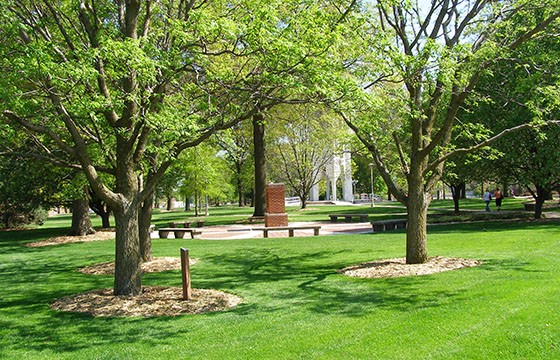 Backstory and Context
Thomas Gaunt immigrated from England to America in 1853 and subsequently gained employment for the Smith and Franklin Nursery in McDonough County, IL. Whatever his original inclinations to plants were, working with plants soon became a lifelong career. When he moved to Nodaway County in 1857, he established his own plant nursery and eventually, in the 1870s, built his own house (today known as the Gaunt House, or Presidential House).

When Gaunt's daughters donated the land that would eventually become Northwest Missouri State University, the Gaunt house became the future home of every university president. The university inherited with the land and home the many beautiful trees that Gaunt had planted.

However, today much of the university's forest date to a later name. In 1917, the head groundskeeper for Northwest Normal School began a campaign of planting 300 trees per year. He continued this campaign all the way through 1927. The dense forest which developed became lovingly known as "Brink's Forest."

Unfortunately, the outbreak of "Dutch Elm Disease," as well as general university expansion, has dramatically reduced Brink's original trees. However, future groundskeepers have followed Brink's example of maintaining a robust forest and planting hundreds of new trees. Today there is a greater emphasis on maintaining a diversity of trees so that future diseases cannot wipe out the entire forest.

This beautiful forest can be visited and accessed by visiting the university campus. There are many paths and trails to explore, as well as areas to picnic or relax.
Sources
State of Missouri Arboretum. Northwest Missouri State University website. . Accessed February 01, 2019. http://www.nwmissouri.edu/arboretum/history.htm.


Additional Information