Mavericks
Introduction
Mavericks is a surf location in Northern California that is known for its big waves. Mavericks is a winter destination for some of the world's best big wave surfers. Very few riders become big wave surfers, and of those, only a select few are willing to risk the hazardous, sometimes deadly, conditions at Mavericks. An invitation-only contest is held there most winters, when the waves come. With a nice winter storm in the northern Pacific Ocean, it is not uncommon for Maverick's to produce standard waves of about 25 feet or more, and they can often reach a height of over 50 feet. This rocky reef break is mainly a right, but there is also a left off the main break that is rarely surfed.
Images
View of Mavericks from Land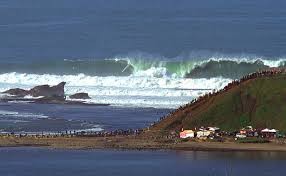 Jay Moriarty on the cover of Surfer Magazine
A photo of Jay Moriarty surfing Mavericks with a quote from Moriarty.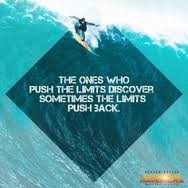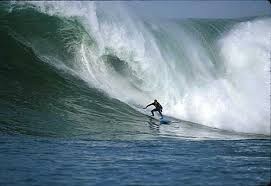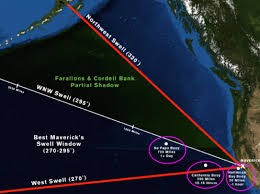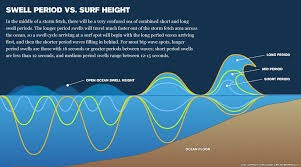 Backstory and Context
Maverick's is located 25 miles south of San Francisco in Northern California, just a few miles north of Half Moon Bay and a quarter-mile off of Pillar Point Harbor. There are two options to get yourself out to this massive break. The first is to park south of Pillar Point, walk over the hill to a small beach, and paddle out at the north jetty. The paddle takes about 45 minutes and is difficult. The other option is to take a boat from Princeton Harbor out to the main break.
There are two swell directions that will make Maverick's break the best: northwest and west. A northwest swell will generally produce a longer, easier wave, and a west swell produces shorter faster waves. Tides also play a big part in the way this gigantic wave will break. A lower tide tends to make the waves steeper and more dangerous, while a higher tide will keep the danger down to a minimum.
In 1961, three Half Moon Bay surfers ventured out to the break after surfing the inside wave for a bit and deemed it too dangerous to surf. The name Mavericks comes from the name of their German shepherd, who followed them into the water. In 1975 a goofy-foot surfer named Jeff Clark began surfing Mavericks. He was 18 at the time and surfed it all alone for 15 years. Clark taught himself how to switch surf stances so that he could surf both the lefts and rights front side. In the early 1990s, Clark introduced his one-man break to surfers from San Jose and San Francisco, and Maverick's soon made its debut on the cover of Surfer Magazine.

The danger also was realized in 1994, 16-year-old Jay Moriarity launched into one of the most spectacular wipeouts in history. The image of an airborne Moriarity about to face annihilation was displayed on the cover of Surfer magazine. Hawaii big wave surfers ventured to California's biggest waves to see what all the fuss was about. Unfortunately, the waves on that cold winter day ended up taking the life of famous big wave rider Mark Foo. The first legitimate Maverick's Surf Contest was held in the winter of 1999-2000, but the contest known today as Maverick's launched in 2004 with the help of Jeff Clark. Like other big wave surf contests, it doesn't happen every year.
It is one of the most famous waves in the world, creating careers, opportunities and a scene every time it breaks. When it's booming, the parking lot and path that Jeff Clark once had to himself is clogged with dozens of surfers, hundreds of spectators and an ever-present press corps, photographing, filming and videoing the show from the cliffs, boats, Jet Skis and helicopters.
Sources
http://en.wikipedia.org/wiki/Mavericks,_California http://www.surfline.com/surfing-a-to-z/mavericks-history_861/ http://gocalifornia.about.com/od/topcalifornia/a/mavericks_surf.htm
Additional Information