William Paca House
Introduction
Built in the early 1760s, the William Paca house was home to the third governor of Maryland. William Paca was one of four Maryland colonists who signed the Declaration of Independence. The Historic Annapolis Foundation restored the mansion in the 1960s and offers guided tours of the home and its garden. Visitors to the house can view historic artwork and furnishings, and enjoy a number of interpretive exhibits that offer a rare glimpse into the late colonial period and early statehood.
Images
The Paca House is a National Historic Landmark and one of the grandest colonial-era homes in the nation.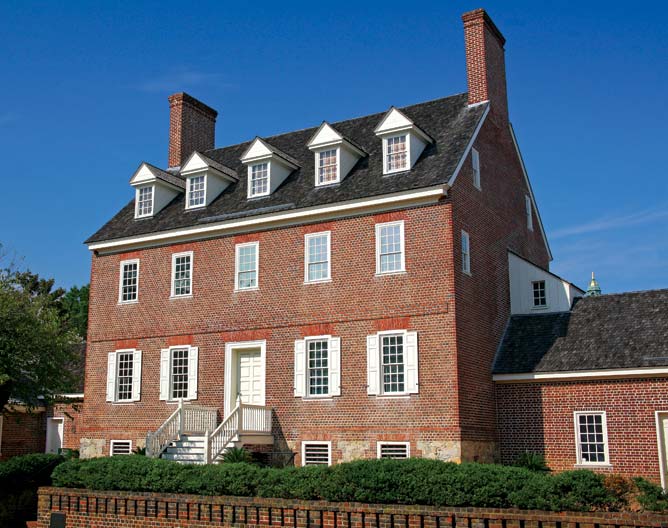 Backstory and Context
William Paca was born on October 31, 1740 in Hartford County, Maryland. He studied law at the College of Philadelphia and graduated in 1759 with a master's degree. He completed his legal training in London and was admitted into the Maryland bar in 1764. He married Mary Chew, the daughter of a wealthy Delaware physician Samuel Chew a year earlier. They had three children but sadly only one, John Philemon, survived to adulthood. 
Paca became a prominent Maryland political figure and served in a number of positions including in the state legislature from 1768-1774, in the provincial conventions from 1775-1776, and in the state senate from 1777-1779. Between 1774-1779 he was a delegate to the Continental Congress (where he signed the Declaration of Independence). He also served as a chief judge in the general court of Maryland form 1778-1780. He then became Governor in 1782 and served for a one-year term. He was later a delegate to the Maryland convention, which ratified the Constitution in 1788. His final position came in 1789, when George Washington appointed him as federal district judge for Maryland. Paca remained in that position until 1799 and shortly passed away in October of that year.
As for the house, Paca sold it in 1780 and remained in private ownership until 1965, when Historic Annapolis bought it to save it from demolition. The house became a rental property for a time and even a hotel when national tennis champion William Larned purchased it in 1901. He named it Carvel Hall and for a long time was Annapolis' best hotel. One employee, an African American man named Marcellus Hall, became a well-known and well-respected staff member thanks to his professionalism and hospitality. He began working as a bellboy then worked his way up to Superintendent of Services. He remained at the hotel until it closed in 1965.  
The state proceeded to restore the historic old house, employing the skills of various professionals including carpenters and architectural historians.
Sources
Snell, Charles. "William Paca House." National Park Service - National Register of Historic Places Nomination Form. November 11, 1971. https://npgallery.nps.gov/GetAsset/72603bef-44d7-4aff-8e65-dea362124d42.
"William Paca House." Historic Annapolis. Accessed April 8, 2015. http://www.annapolis.org/contact/william-paca-house-garden
Additional Information