The Conservatory of Flowers
Introduction
The Conservatory of Flowers is located in Golden Gate Park and is the oldest public wood-and-glass conservatory in North America. The Conservatory was built in the late 19th century after the supplies were purchased from the estate of James Lick. It originally opened as a public attraction in 1879. After a number of accidents, natural disasters, and restorations the Conservatory reopened for the third time in 2003. Since then the Conservatory of Flowers has received a number of awards recognizing it's beautiful architecture, collections, and history.
Images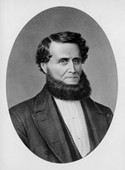 The Conservatory of Flowers at Night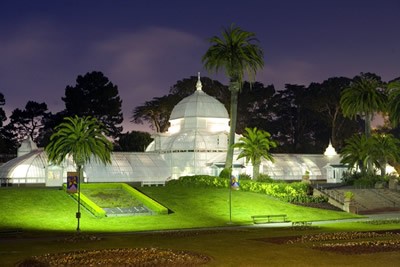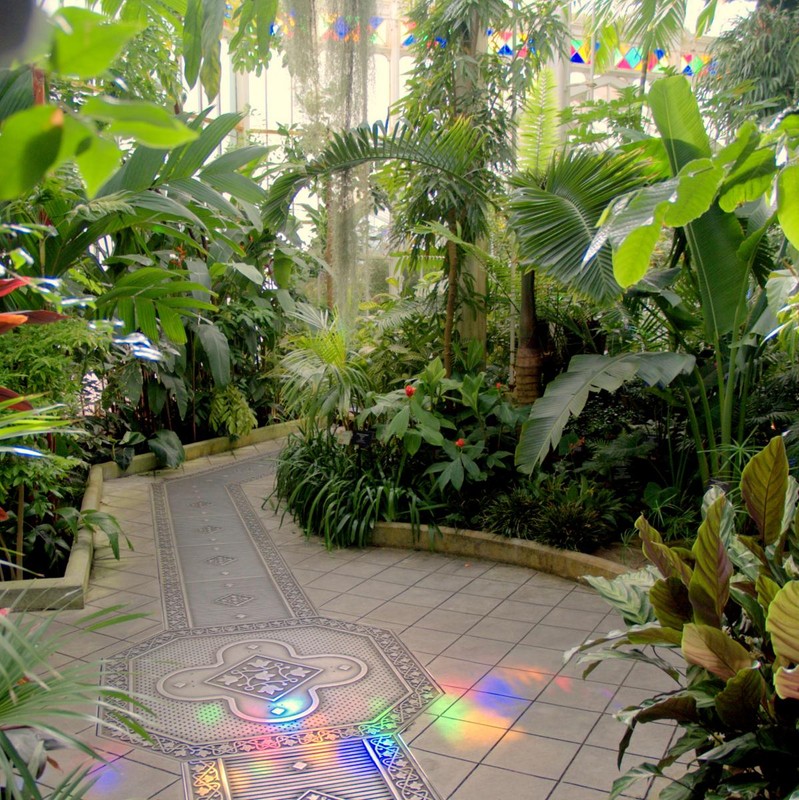 Backstory and Context
In nineteenth century America conservatories, also known as greenhouses, became very popular among elite citizens. Explorers and botanists travelled the world collecting tropical plants to fill the newly erected glass wonders. Some conservatories were built to be part of mansions, while others were separate from any other structure. The Conservatory of Flowers was built during this time under the initial instructions of James Lick.

James Lick was born in Pennsylvania in 1796 as the son of a skilled carpenter. When Lick was a young man he became his father's apprentice and mastered the skill of carpentry. After moving from Pennsylvania he settled in Baltimore for a short time and learned the craft of piano making. In 1821 he moved to New York to open his own shop and found great success. When Lick discovered that his pianos were being exported to South America he closed his shop and decided to move to Buenos Aires to be as close to the market as possible. Lick was determined to become a success. In the thirty years that he spent in South America his piano shop thrived and he became involved in the profitable fur trade. However, he longed to return to North America. He set his eyes on what would soon become California and in 1847 he packed up his shop and set sail.

When Lick arrived in San Francisco he began to buy large portions of land with the money he had made for himself in South America. Instead of investing in the Gold Rush along with the majority of California's residents during the second half of the nineteenth century, Lick made the wise decision to invest in land. He made these investments in San Francisco and San Jose, and sold the produce cultivated on his land to the public. Lick expanded his wealth when he opened Lick's Mill in 1855 and then Lick House, a grand hotel, in 1861. As he grew into his millionaire status he followed a trend popularized by other wealthy Americans: investing in a conservatory for his estate. However before his death in 1871, he only made efforts to purchase the materials needed for a such an undertaking, and they remained in crates for almost a decade.

In 1877 the materials were purchased by notable San Francisco citizens who then gifted them to the city. The structure was built in Golden Gate Park and opened in 1879. It was an instant hit among the public and was visited often. Through out the late nineteenth and through the twentieth century the Conservatory was victim to destruction and disaster. Boiler explosion, fires, wind, and winter storms all caused the building to require expensive renovations. In 1998 the Conservatory of Flowers was placed on the 100 most Endangered World Monuments list, and the National Trust for Historic Preservation adopted the structure into it's Save America's Treasure Fund. Due to these attempts a fundraising campaign was established and raised twenty-five million dollars for the Conservatory's renovations and reopening in 2003.

Today, the Conservatory offers educational tours and hosts special events. Students studying botany and those interested in horticulture come together to study the Conservatory's collections. People from all over come to experience the fascinating exhibits that connect them to nature in a significant way.
Sources
"Mission & History." Conservatory of Flowers. http://www.conservatoryofflowers.org/about/mission "The Lick Observatory Collections

Project: The Life of James Lick." The Lick Observatory Historical Collections. http://collections.ucolick.org/archives_on_line/James_Lick.html
Additional Information