St. John's Episcopal Church
Introduction
St. John's Episcopal Church is located in Mt. Pleasant, Michigan. An Episcopalian mission was founded in 1876 and after several years they built the church in 1884. It was designed in the Gothic and English Gothic Revival styles and in fact the interior takes its inspiration from a chapel on the estate of the Duke of Devonshire in England. One of the priests who served at the church from 1962-1985, John H. Goodrow, participated in several community outreach activities, including "Food With Friends", a program that offered lunches to the elderly in the church hall. After he passed away, a fund was dedicated in his name and it provides emergency assistance to those in need in the area. The church was named to the National Register of Historic Places in 1882.
Images
An older photo of St. John's Episcopal Church.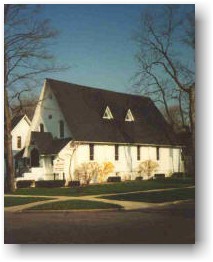 Sources
http://johnhgoodrowfund.weebly.com/ "St. John's Episcopal Church". http://www.michmarkers.com. Retrieved 4-7-15.
Additional Information