International Gymnastics Hall of Fame
Introduction
The International Gymnastics Hall of Fame honors the achievements of those who are considered the world's greatest competitors and to the people to contribute to the sport of gymnastics. The hall of fame is located in Oklahoma City. The board of governors consists of volunteers who are deeply rooted in the sport of gymnastics and dedicate much of their time to the hall of fame.
Images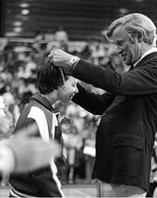 Backstory and Context
The International Gymanstics Hall of Fame's purpose is "to preserve, promote, and share the achievements of our sports greatest legends, so that future generations may continue to be inspired to achieve great things." (ighof.com) The honorees consist of those who have truly inspired and achieved some of the greatest feats in gymnastics history. To be inducted to the hall of fame, the Board of Directors, select those who qualify. To be considered, a gymnast must have won an Olympic or World Championship medal, of any color, in an individual event. After the wining of the title, they gymnast must demonstrate over a 10 year period, participation and contribution to the sport of gymnastics, both nationally and internationally. (ighof.com)
Glenn M. Sundby founded the hall of fame. He dreamed of creating a physical space that people could walk through and see personal items and memorabilia of those who have been honored. He began collecting items over the years and storing them in his business space in Oceanside, CA. He never gave up on his dream and ultimately asked for help from various gymnastics associations. In 1995 the hall of fame was moved from his small business space in Oceanside, CA to Oklahoma City, OK and since then the hall of fame has became all that he dreamed of. The hall of fame has gathered much public attention and a concrete mission.
The IGHOF presents three different awards: the Order of Merit award, the Frank Bare award, and the Nadia award.
The order of the merit is presented to an individual "who has been determined by his or her peers to have made a most significant contribution to the development, the maintaining of harmony, the advancement of participation and appreciation for the sport of gymnastics in their homeland, their region of the world and the world of sport."
The Frank Bare award is presented to an individual "who has made exceptional contributions in promoting and growing the sport of gymnastics throughout the United States." The award is in honor of the late board of chairman, Frank Bare who passed away in 2011.
The Nadia award is present to an individual "who is currently competitive or a recently retired gymnast from around the world who has demonstrated great sportsmanship or fair play." This award is in honor of Nadia Comaneci.
Sources
Additional Information