UC Berkeley Art Museum and Pacific Film Archive
Introduction
As the visual arts center of UC Berkeley, the Berkeley Art Museum and Pacific Film Archive constitutes one of the largest university museums in the U.S. It houses 19,000 paintings and 16,000 films and videos. Its collection includes historical and contemporary Asian art, early American painting, contemporary international art, California and Bay Area art, and European art. An area of strength is the collection of Ming and Qing dynasty paintings, which comprise one of the best Chinese painting collections in the country. In addition to the art, the museum also offers gallery talks and lectures, workshops, tours, and various family events.
Images
The UC Berkeley Art Museum and Pacific Film Archive is one of the largest university art museums in the country, holding a collection of 19,000 works of art and 16,000 films and videos.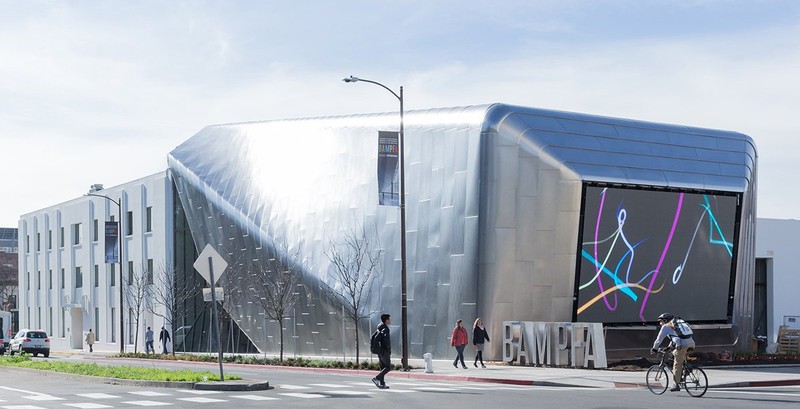 Backstory and Context
The museum's roots date back to 1881 when the Bacon Art and Library Building was constructed. It was named after Henry Douglas Bacon who donated a sizeable collection of art, including Albert Bierstadt's "Yosemite in White Scene" (1872), to the museum. In 1919, the museum received an excellent collection of 1,000 Japanese prints, which signaled that it was intent on developing a collection of art from around the world. In 1931, the museum moved into a former power plant and changed its name to the Powerhouse Gallery. It remained there until a new building, designed by architect Mario Campi, was constructed in 1970. The Pacific Film Archive was established during this time, in 1967.

Unfortunately, in 1997 it was deemed seismically unsafe and bracing was installed to protect it. The museum had to search for a new location. It had planned to renovate and move into a printing plant but that plan was scrapped and it was decided that a new structure (the present building) would be built. It opened in 2016.
Sources
"Mission and History." UC Berkeley Art Museum and Pacific Film Archive. Accessed April 30, 2018. https://bampfa.org/about/history-mission.
Photo: Iwan Baan,
via
UC Berkeley Art Museum and Pacific Film Archive
Additional Information