Fort Selden
Introduction
Built on the east banks of the Rio Grande in 1865, Fort Selden was a lonely post for the soldiers that once occupied it. Many of those first troops were from the 125th U.S. Colored Infantry--an infantry of African American men, who fought for the Union during the Civil War. Originally meant to protect travelers along El Camino Real from the surrounding Native Americans, most action came from calls to keep order in the rowdy, neighboring Leasburg. The actual site of the fort remained relatively quiet. Today the disarray of standing and fallen adobe walls only adds to the eerie and lonely feel of the site, once populated by young soldiers.
Images
The ruins of Fort Selden.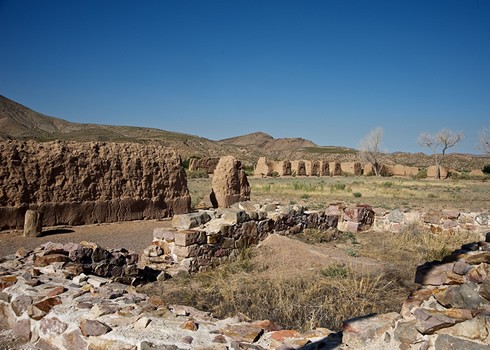 Backstory and Context
In 1865, Fort Selden was founded amid the ruins of a forgotten Mogollan village. Built on El Camino Real de Tierra Adentro (the famous 1,600-mile trading route between Mexico City, Mexico and San Juan Pueblo, New Mexico), the fort existed to protect the travelers and traders, who journeyed along the route, ostensibly from "Native American threats."

In reality, only three soldiers ever died in combat with Native American during the fort's entire 25-year life. Instead, fellow Americans proved to more violent and more deadly in the neighboring town of Leasburg. The soldiers were frequently called on to assist law and order along the frontier.

Once nearly deserted in light of the few Native American attacks, the fort resumed importance 1880, when America began expanding its railroad system. The fort became a central base to protect railroad workers. However, as Fort Bliss in Texas eventually eclipsed Fort Selden, and the last troops left the fort in 1891.

Today a visitor's center includes exhibits and living history presentations. Crumbling adobe walls and the foundations of soldiers' quarters can otherwise be respectfully explored and seen.
Sources
http://www.nps.gov/nr/travel/El_Camino_Real_de_Tierra_Adentro/Fort_Selden.html
Additional Information