Hills Bros. Coffee Plant
Introduction
The Hills Bros. Coffee Plant was one of several coffee giants founded in San Francisco, with competitors such as Folger's, MJB and Schilling. The company was founded by brother Austin and Reuben Hills in 1878 in a small stall at Bay City Market - where the United Nations Plaza is now located. Their business moved location a few times before finally staying on the Embarcadero where their Romanesque Revival plant was designed by George Kelham.
Images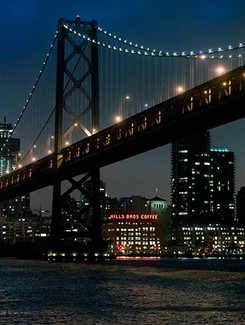 Hills Bros. Coffee Plant 1940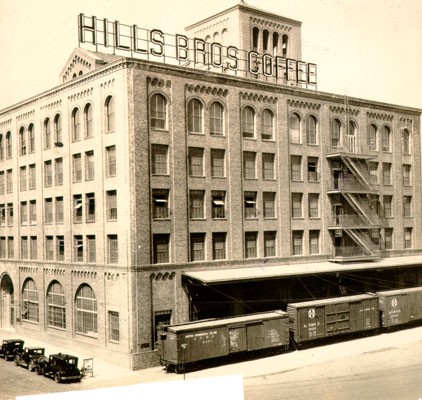 Office, Factory and Selling Force Hills Bros. 1882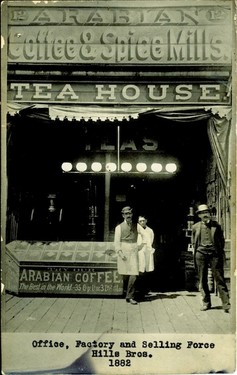 Hills Bros. Building, San Francisco, Dec. 15, 1924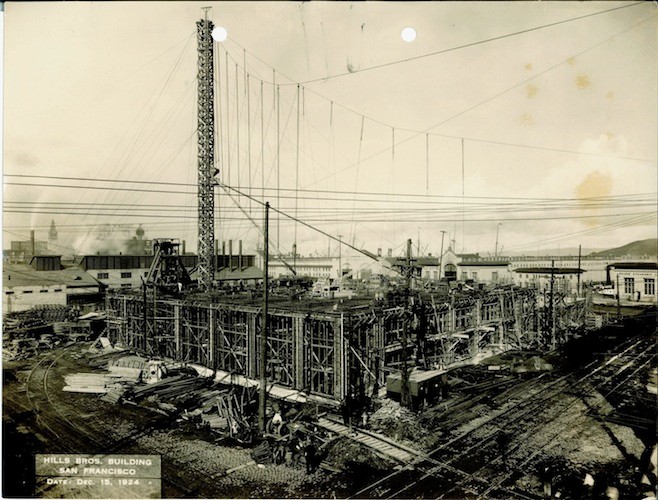 Backstory and Context
The company has its origins with the sons of Austin Hills, born 1823 in Rockland, Maine. The three sons: Austin, Earnest, and Reuben began the coffee business in San Francisco in 1878 with a retail store in 1882. In 1900, the brothers began selling vacuum sealed coffee, and had incorporated it into their name by 1906.

In 1926 the Hills Bros. moved to 2 Harrison Street, a Romanesque revival style building designed by George W. Kelham. During World War II, due to the war effort, the company had to stop using metal containers and replaced them with glass jars. In 1984 the company purchased the trademark and manufacturing facilities of the Chase and Sanborn Coffee Company. A year later the brand was purchased by Nestle who sold it to the Sara Lee Corporation in 1999. The brand was purchased again in 2006 by Massimo Zanetti Beverage USA.

In 2012 the building was taken over by Wharton, San Francisco, a satellite of the Wharton School of the University of Pennsylvania. Today Google, Inc and Mozzila Corporation have offices on several floors of the building.

Sources
San Francisco Landmark #157 Hills Bros. Coffee Plant. Noe Hill. Accessed April 02, 2017. http://noehill.com/sf/landmarks/sf157.asp.

Start Your Engines! Hills Bros Coffee Fuels Up Chicago with Inaugural NASCAR Busch Grand National Race at Chicagoland Speedway.. Free Library. June 13, 2001. Accessed April 02, 2017. https://www.thefreelibrary.com/Start+Your+Engines!+Hills+Bros+Coffee+Fuels+Up+Chicago+with+Inaugural...-a075499051.

Coffee Industry Icon and Former Chairman of Hills Bros Coffee, Inc. Appointed Advisor to Coffee Pacifica. Business Wire. July 07, 2005. Accessed April 02, 2017. http://www.businesswire.com/news/home/20050707005268/en/Coffee-Industry-Icon-Chairman-Hills-Bros-Coffee.

Hills Brothers. September 29, 1984. Accessed April 02, 2017. http://www.nytimes.com/1984/09/29/business/hills-brothers.html?sec=&spon=.


Additional Information