The Rosenbaum House by Frank Lloyd Wright
Introduction
An American architectural treasure, this house was built for newlyweds Stanley and Mildred Rosenbaum of Florence, Alabama, in 1939 and expanded in 1948. The house is the only structure designed by Frank Lloyd Wright in the state of Alabama, and the only such house in the southeast that is open to the public.
Images

Floor plan for the Rosenbaum House.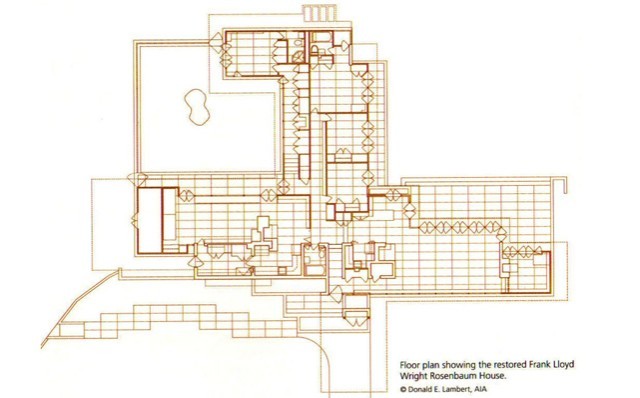 The living room is decorated with furnishings that date back to just after the house was completed.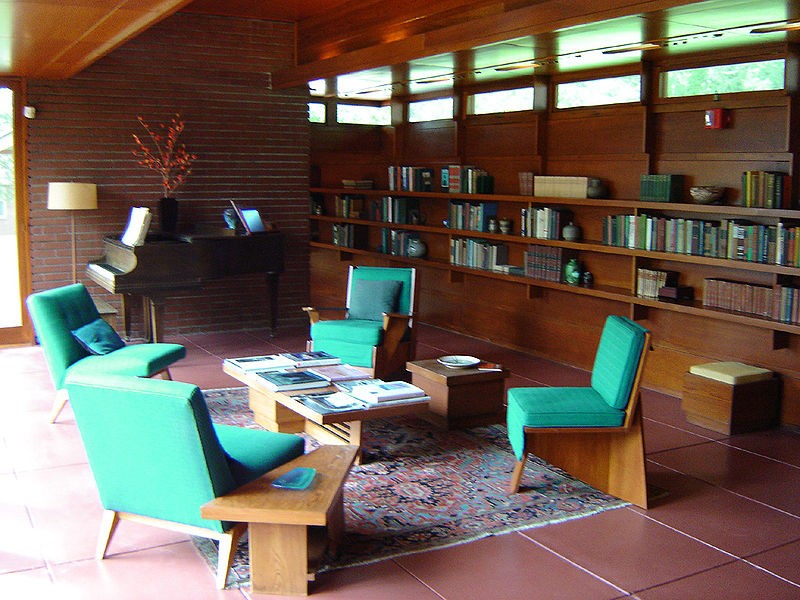 Backstory and Context
Wright's Usonian style (named for the United State of America) was offered as a low-cost home for middle income families. With Wright's plans, a young family could build their own home, fulfilling the American dream of home ownership. This house sits on a two-acre lot, very near downtown Florence and facing the Tennessee River.
The Usonian style house originally contained 1,540 square feet, but when the Rosenbaum household grew to include four sons, the family called upon Wright to design an addition. In 1948, 1,084 square feet was added, containing a larger work space (kitchen), a guest bedroom, storage space and a dormitory for the boys. This seamless addition clearly shows Wright's concept of a Usonian house that could grow with the family as it grew. The Rosenbaums were the sole owners and occupants of the house until 1999, when it was purchased by the City of Florence. The house had reached a critical stage, due to delayed maintenance, and years of leaking roofs had damaged the joists, ceilings, walls and exterior trim. Termites had also taken their toll and cored many of the walls.
The City developed a plan to save the house, using a capital improvements account funded by a one-cent sales tax. Dozens of volunteers and professionals contributed to the restoration and without this major effort the house might have been lost. This treasure, meticulously preserved, is now a museum, open to the public for this City and the world.
Sources
http://www.wrightinalabama.com/rosenbaum.html
Additional Information