Vestal Museum
Introduction
Built in 1881 by the Delaware, Lackawanna and Western Railroad as a railroad station, this structure is one of very few pagoda-style stations that survive today. Relocated in 1972, the building was restored, renovated, and since 1976 has operated as Vestal Museum.
Images
The Vestal Museum as it appears today, with photo inset of the Pheobe Snow's last stop at the station in 1959.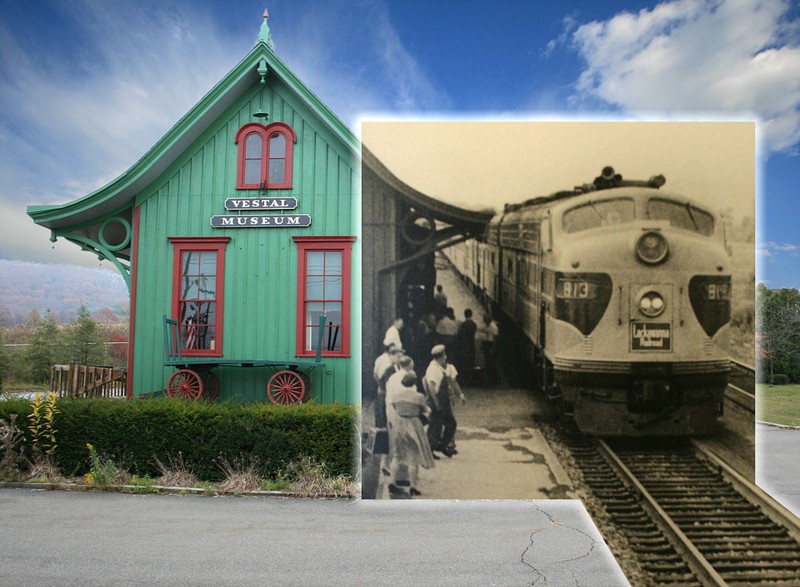 Transporting the building to its new location in 1972.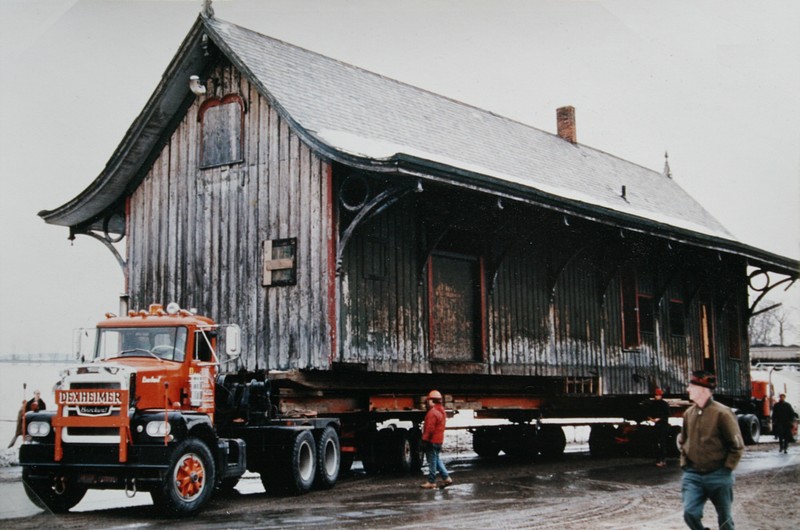 Backstory and Context
Built in 1881 by the Delaware, Lackawanna and Western Railroad, it was that year that the DL&W introduced a new, simple station that would later be known as "pagoda" style. With its steeply pitched roof, distinctive curve over the eaves and circular roof supports, the building had a very unique and somewhat oriental look. The Vestal station would serve as a model for several other stations of this style on the route west of Binghamton, and it is one of very few pagoda stations that survive to this day.
The station was originally located on Main Street in Vestal, one block north of Four-Corners, where Route 17 is today. Located on the south side of the tracks, it was part of a complex that included the Rounds Coal Company building (recently relocated to the Rail Trail,) and a large wooden coal tipple.
In 1949 the DL&W Railroad launched a streamlined passenger train named after the company's well-known advertising mascot, Phoebe Snow. The Phoebe Snow would make daily stops at the Vestal station on its route from Hoboken, New Jersey, to Buffalo, New York.
Rail traffic declined over the years and in August, 1959, Phoebe Snow would make her last stop at the Vestal station. The station sat empty for several years, until 1971 when it was sold to the Town of Vestal. The following year the structure was moved one half-mile to its current location on the Vestal Public Library campus. A collaborative effort by the Town and the Vestal Historical Society restored and renovated the depot for use as the town museum.
Since its opening in June of 1976 the Vestal Museum has served the community with ongoing exhibits and educational programs, and stands as one of Vestal's most prominent and recognizable icons.
Historic Designations:
2012 Local Historic Landmark
Sources
Roger Luther Town of Vestal Historian
Additional Information