Kingdome, 1976-1999
Introduction
Opening in 1976 after a successful bond issue raised $40 million in taxpayer funding, this domed multi-sport stadium was home to the Seattle SuperSonincs, the Seattle Mariners, and the Seattle Seahawks. The stadium struggled with several major structural issues (including a roof collapse) and was demolished in 2000.
Images
View of the Kingdome field from the stands.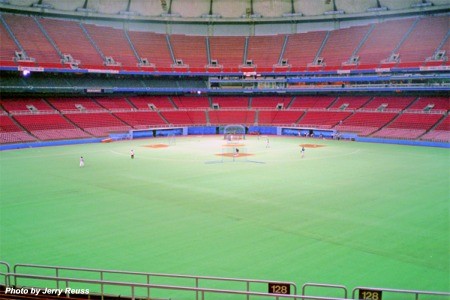 Aerial view of the Kingdome.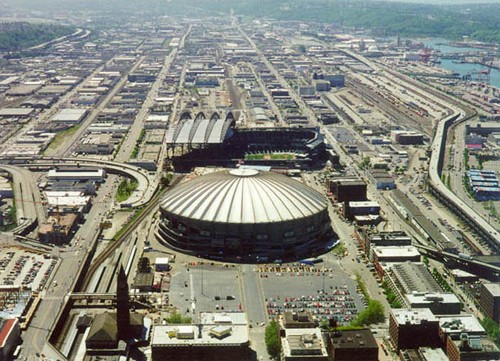 Backstory and Context
The Kingdome was an impressive, large facility constructed in 1977 with a budget of $67 million that never quite paid off. The Kingdome was surfaced with Astroturf, and tall, with a peak of 250 feet. Unfortunately, it wasn't a beautiful facility, or especially well-loved. As early as 1990, players were petitioning for a new stadium, a request that finally had to be addressed when part of the ceiling collapsed in 1994.
Although it was determined the Kingdome would be torn down and the team's home stadium moved, it remained for several years as ground was broken and a new facility was planned. While there was some activity during this time, few major events occurred – most of the Kingdome's heyday was behind it. The Kingdome was home to several teams, like the Seattle Pilots, Seahawks, and Mariners, and also hosted such events as the NFL's Pro Bowl (1977), MLB's All-Star Game (1979), and the NBA's All-Star Game (1987).
However, renovations weren't sufficient to save the Kingdome, and the decision was finally made to demolish the young facility. The Kingdome was destroyed in March of 2000 and replaced by the Seattle Seahawks home CenturyLink Stadium
Additional Information