Joe Namath Plaque
Introduction
This plaque honoring Joe Namath was dedicated on September 10, 2011. The Jets selected Namath, who grew up in Beaver Falls in the 1965 draft. Namath quickly became the face of the franchise and one of the most influential quarterbacks in NFL history.
Images
Joe Namath After the win over the Colts in Super Bowl III
This was the Sports Illustrated cover when Joe Namath was a rookie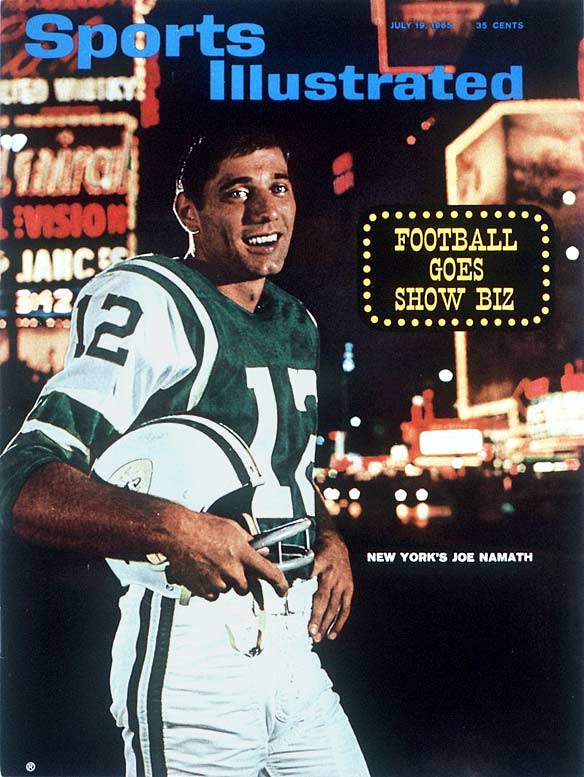 Joe Namath at the unveiling of the plaque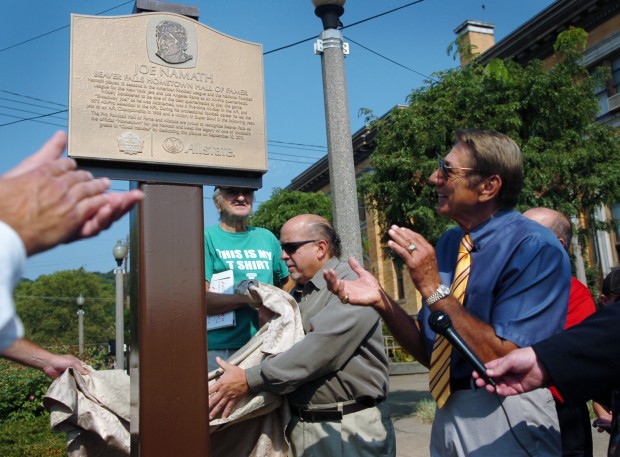 Backstory and Context
Joe Namath grew up in Beaver Falls, Pennsylvania, and loved sports, especially baseball. A star in football and basketball in addition to baseball, Namath was a local star after graduating from high school, he accepted an offer to play quarterback for the University of Alabama. Namath led Alabama to a National Championship in 1964 and began his professional career the following year. His contract with the New York Jets made headlines, landing the Beaver Falls a record-setting $400,000 deal and a new car.
The combination of Joe Namath and Don Maynard became one of the most lethal quarterback-wide receiver combos in the league. Thanks to the Jets offensive line, Namath became the first quarterback to throw for 4,000 yards in a single season. He also led the league in interceptions, and it was because of those mistakes that the Jets lost in the conference game in 1967.
The 1968 season again saw Namath and the New York Jets in the playoffs. Namath had reduced his interceptions and led the team to Super Bowl III in Miami at the Orange Bowl against the Baltimore Colts. No AFL team had ever beat the NFL, yet before the game, the flashy quarterback publicly guaranteed that the Jets would win the game. And while Namath did not record a passing touchdown, his Jets won the game. Joe Namath was also well-known for his flashy style off the field which landed him many commercial endorsements. Namath was inducted into the NFL Hall of Fame in 1985.
Additional Information