Wysor Street Depot (Cincinnati, Richmond, & Muncie Depot)
Introduction
The Wysor Street Depot, formerly known as the Cincinnati, Richmond, & Muncie Depot, is a restored train station in Muncie, Indiana. Built in 1901 by William S. Kaufman in the Romanesque style, it is the last train station left in the city. It now serves as a visitor center and trail headquarters for the Cardinal Greenway trail system. A gift shop and displays of historic memorabilia are inside. The trail follows the same path as tracks once did; a second track still exists and is separated by a fence. The trail can be used for biking and hiking. The depot was listed on the National Register of Historic Places in 1997.
Images
The Wysor Depot as seen in 2007 (Sean Lamb)
Another view of the depot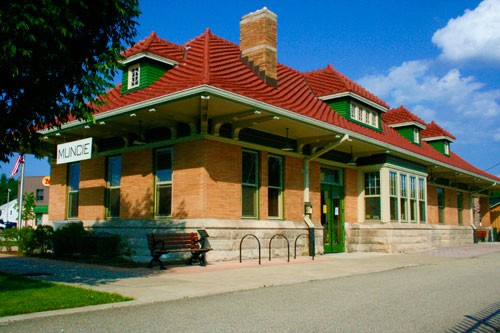 Backstory and Context
The Wysor Street Depot was one of a few train stations in Muncie. The first tracks to pass through the city were laid in the late 1840s. The station was built in 1901 by Locke and Hill of Richmond, Indiana, using plans for stations on the rail line by architect William Kaufman of Richmond; the station resembles the one built for Richmond. The late Victorian Queen Anne style structure cost around $15,000 to construct. The exterior is light brown pressed brick on a stone foundation, originally with a red clay tile roof pierced by dormers. Fancy oak doors with gold finishing and enormous oak benches furnished the luxurious interior. A cream tile wainscoting decorated the walls and ceiling with a green tapestry from the wainscoting to the wall base. Interior rooms were a large waiting room, a baggage room, smoking room, a women's waiting room, and a ticket office.
In 1910 the Chesapeake and Ohio Railway bought the station and the route from Chicago to Cincinnati. The line was mainly used for freight, hauling Appalachian coal to Chicago. For a time, passengers could request a Pullman sleeping car for night travel from Muncie to Chicago. The unattached car would be boarded at Muncie and then attached to the night train. This service stopped in 1933 when the northern end of the passenger route became Hammond, Indiana.
The Wysor Street Depot served as a passenger train station until 1949 but freight trains continued to use it for another year. From 1950 to 1973, the depot was used as offices for Muncie Gear Works, Inc. The depot was restored in 1973 to be used by Amtrak but passengers on the Cardinal Line just used the platform and not the station. This usage ended in 1985 and the depot was vacant for a number of years. The depot was acquired in 1993 by Cardinal Greenway, Inc. as part of their rails to trails program. In 2003-2005, the Wysor Street Depot was restored to its original 1901 condition. It contains many artifacts and photographs from the early 20th century. It is now part of the Cardinal Greenway system which spans 62 miles of rails to trails in Indiana, from Marion through Muncie to Richmond.
Sources
Giese, Michael. Wysor Street Depot History, Depot History. January 1st 2002. Accessed May 6th 2020. https://web.archive.org/web/20070809024758/http://www.delgreenways.org/History/depot_story.htm.
"History". http://cardinalgreenways.org/about-cardinal-greenways/history. Retrieved 4-1-15.
Leonard, Craig. "Cincinnati, Richmond, & Muncie Depot", National Register of Historic Places. 4-6-1997. http://pdfhost.focus.nps.gov/docs/nrhp/text/97000304.PDF.
Muncie - Delaware County Visitors Bureau. Historic Wysor Street Depot, Visit Muncie. January 1st 2020. Accessed May 6th 2020. https://www.visitmuncie.org/historic-wysor-street-depot-gift-shop/.
Sneaky, Blue. Wysor Street Depot - Muncie, IN, Train Stations/Depots on Waymarking.com. April 27th 2011. Accessed May 6th 2020. https://www.waymarking.com/waymarks/WMBAW4_Wysor_Street_Depot_Muncie_IN.

Stark, Laura. "Cardinal Greenway, Indiana", Rails-to-trails Conservancy. 7-1-12. http://www.railstotrails.org/trailblog/2012/july/01/cardinal-greenway-indiana. Retrieved 4-1-15.
Image Sources
https://en.wikipedia.org/wiki/Cincinnati,_Richmond,_%26_Muncie_Depot#/media/File:Former_C&O_depot,_Muncie,_Indiana.jpg

Additional Information