Security Mutual Life Insurance Building
Introduction
The Security Mutual Building was built in 1904. Designed by Truman I. Lacey and Son, the 10-story building is an elaborate expression of Beaux-Arts Classical architecture.
Images
Security Mutual Life Insurance Building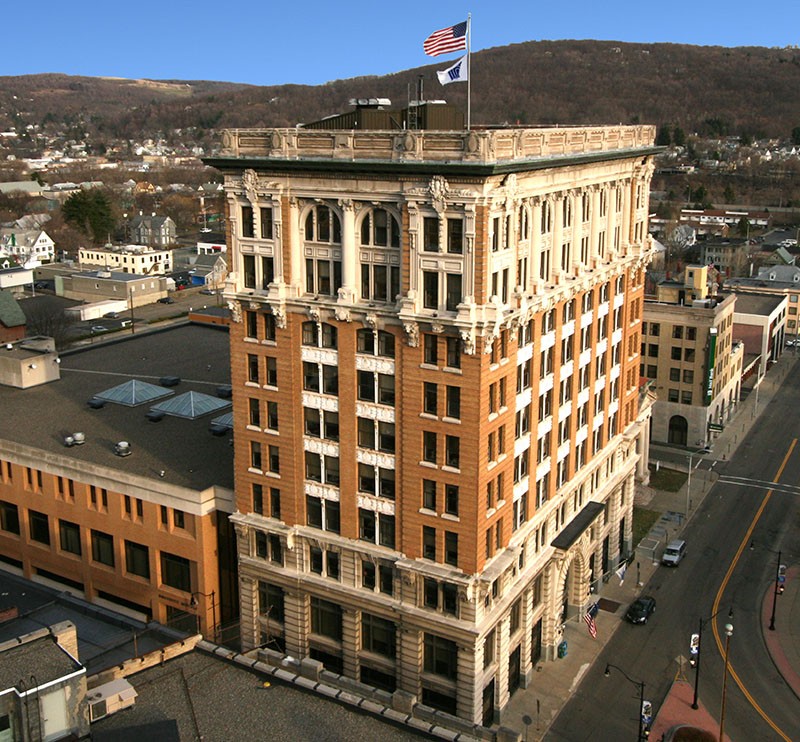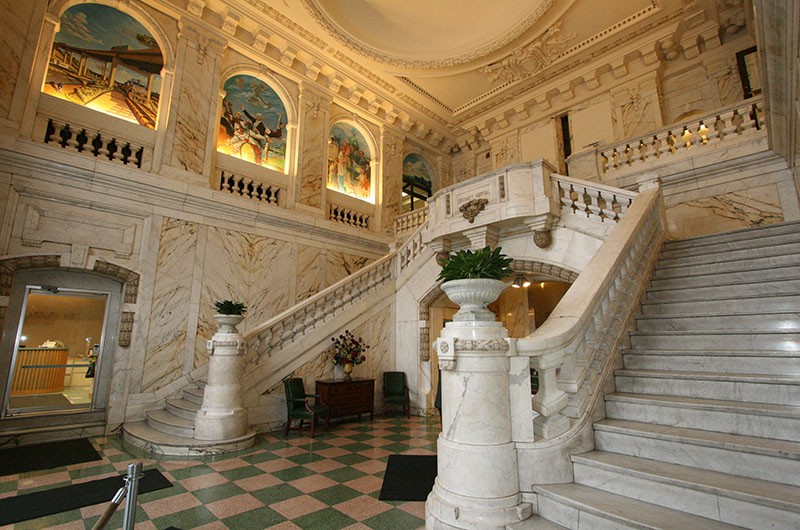 Backstory and Context
Designed by Truman I. Lacey and son, this Binghamton "skyscraper" was built in 1904 to be the headquarters of the rapidly growing Security Mutual Life Insurance Company.
The building stands as an elaborate expression of Beaux-Arts Classical architecture. The massive arch at the entrance was created in the image of the company's original emblem - a stone bridge spanning a river with a setting sun in the background. Originally, a radiating pattern of ironwork filled the upper portion of the arch further emphasizing the concept. The design is echoed around the windows of the upper floors where carved stone lion heads look out over the city.
Inside, the highly ornate two-story lobby is one of the most magnificent in the area. Finished in Pavonezza and Carrerra marble, the grand entrance features twin marble staircases that curve gracefully to the second floor. The domed ceiling is framed by architectural features and high above the entrance a marble sculpture of a hunting dog watches over the lobby. Some say it's the architect's dog, others believe it to be the family dog of the first company president, and there is some indication that it simply exists as a symbol of fidelity for the insurance company.
The walls on each side of the lobby are faced with arches, where in 1983 the company commissioned local artists to paint murals depicting life in Broome County.
Magnificent woodwork, ornate fireplaces, vintage light fixtures, and even the original conference room table are found in the executive offices on the upper floors. A close look at the doorknobs reveals an intricate Security Mutual logo molded into the brass fixtures.
Today, the building still serves as corporate headquarters for the Security Mutual Life Insurance Company.
Additional Information