Bugle Field
Introduction
In East Baltimore, located at 1601 Edison Highway and the corner of Federal Street sits the former site of Bugle Field. Now belonging to Rockland Industries, this ballpark housed The Label Men, Baltimore Black Sox and Baltimore Elite Giants. Other than baseball, other events often occurred there for a number of years such as football games as well as boxing and wrestling matches. The park was demolished in 1949.
Images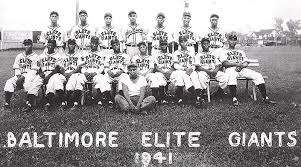 Demolition of Bugle Field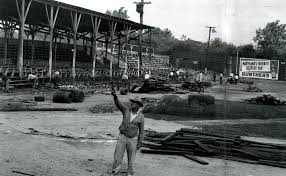 Bugle Field site in present day. Rockland Industries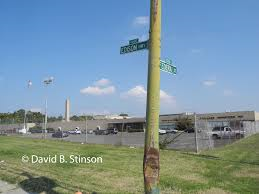 Backstory and Context
in 1912, Edward Lastner purchased a cow pasture in which he would turn into a ballpark with seed money provided by his employer, Simpson and Doeller Company, a company which printed can labels. Originally dubbed the Label Men's Oval, the first occupants, from 1912-1917, was semi-pro team, the Label Men.
In 1924 the park was purchased by Joe Cambria, a scout for the Washington Senators and the owner of Bugle Coat and Apron Supply Company. It was then that the name was changed to Bugle Field. Cambria then introduced football, boxing, wrestling and a baseball squad that was known as the Bugle Coat Apron Nine. He would then, in 1932, become General Manager of the Baltimore Black Sox and house the team at Bugle Field for the 1932-33 seasons. Under new management, the Black Sox, disbanded the following year in 1934.
Bugle Field would in 1938 become the new home of the Negro League Baltimore Elite Giants who originally formed in Nashville Tennessee in 1918. The Elite Giants would go on to win two titles during their 11 years there, in 1939 and again in 1949. Notable Hall of Famers that took the field at Bugle include, Roy Campanella, Leon Day, Joe Black, Junior Gilliam, Lester Locket and Bill Wright. By 1950, the Elite Giants would be moved to Westport Stadium.
The ballpark was demolished during September and October of 1949 and the land would ultimately be sold to Rockland Industries. There as been mention of placing a marker at the site of the former stadium but to date no action has been taken. The Sports Legends Museum, located next to Orioles Park, in Camden Yard has a tribute to the Elite Giants for those interested.
Sources
Dead Baseball http://deadballbaseball.com/?p=3002 http://en.wikipedia.org/wiki/Bugle_Field Project Ballpark http://www.projectballpark.org/history/ecl/bugle.html Baltimore Sun http://articles.baltimoresun.com/1994-07-24/features/1994205171_1_elite-giants-westport-baseball-in-baltimore