Houston Military Entrance Processing Station
Introduction
The Houston Military Entrance Processing Station has served the Houston, TX as the processing center for applicants of the military since 1966. This location holds historic importance because it is the location Muhammad Ali famously declined to serve in the Army during the Vietnam War in 1967. This would lead to him being stripped of his World Heavyweight Championship title and boxing license. This stance by Ali would have ripple effects that would shake the country at it's core.
Images
Heavyweight champion Muhammad Ali is pictured being escorted from the Armed Forces Examining and Entrance Station in Houston, Texas, April 28, 1967, by Lt. Col. J. Edwin McKee, commandant of the station, after Ali refused Army induction.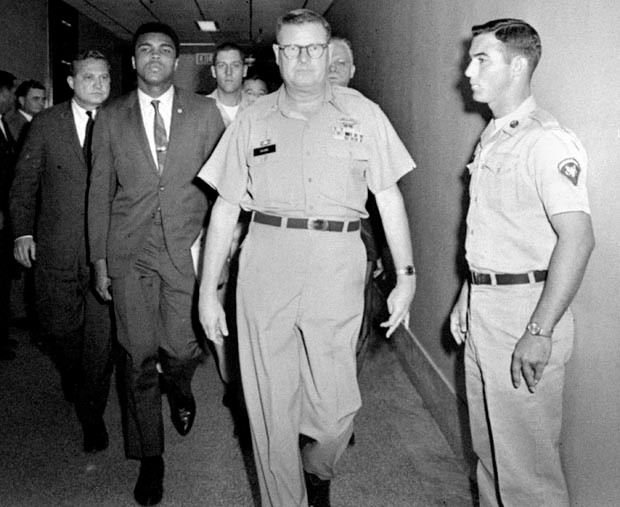 Another photo from the day Ali refused to serve.

Backstory and Context
Muhammad Ali had become the World Heavyweight Boxing Champion in 1964, and he quickly made a name for himself in the boxing world for his speed, skill, and mouth. He joined the Nation of Islam, which is during the time he changed his name from Cassius Clay to Muhammad Ali, which made him a cultural figure for the entire world to see. In that same year, he was tested for entry into the Armed Forces, but happened to fail the exams wasn't pushed to serve. Things began to quickly change in 1966 when the results of those same test were reversed and he was now able to be drafted into the Vietnam War.
Ali wouldn't serve despite this reversal in the test he took a few years back. He claimed that he wouldn't fight in a war that wasn't supported by Allah, and that he would not take part in a Christian's war. He made the most headlines when he was quoted as saying, "I ain't got no quarrel with them Viet Cong - no Viet Cong ever called me Nigger." Finally the time came when he was summoned to the Armed Forces Examining and Entrance Station in Houston, Texas, during which, he refused to answer when his name was called several times. He was arrested and stripped of both his World Heavyweight title and his boxing license. His case would reach the Supreme Court and would eventually be overturned in 1971.
Ali's influence would spread far beyond what he ever imagined it would have. For the first time in history, Ali should the world that athletes had more to give, not just their people, but the world than the abilities they display for them. Kareem Abdul-Jubbar would later go on to say that Ali had inspired him with his firm stance in what he believed to be right and wrong. Martin Luther King Jr. was even influenced by Ali's strength because he had avoided the Vietnam War issue for fear of making the president side against him in Civil Rights issues.
Sources
Houston Military Entrance Processing Station. (n.d.). Retrieved March 31, 2015, from http://www.mepcom.army.mil/meps/houston/index.html.

Lipsyte, R. (1967, April 29). "Clay Refuses Army Oath; Stripped of Boxing Crown." The New York Times. Retrieved March 31, 2015, from http://www.nytimes.com/books/98/10/25/specials/ali-army.html.

Wilkins, C. (2013, April 28). Today in photo history – 1967: Muhammad Ali refuses induction into U.S. military. Dallas News. Retrieved March 31, 2015, from http://photographyblog.dallasnews.com/2013/04/today-in-photo-history-28-4.html.

Zirin, D. (2015, January 18). "Dr. Martin Luther King, Muhammad Ali and What Their Secret Friendship Teaches Us Today." The Nation. Retrieved March 31, 2015, from http://www.thenation.com/blog/195361/dr-martin-luther-king-muhammad-ali-and-what-their-secret-friend...#
Additional Information