Morton H. Meyerson Symphony Center
Introduction
Designed by Pritzker Prize-winning architect I.M. Pei, the Morton H, Myerson Symphony Center home to the Dallas Symphony Orchestra. The building features a grand symphony hall and two restaurants.
Images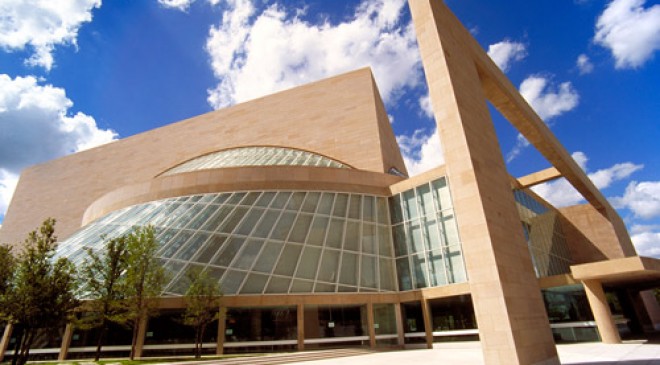 Backstory and Context
A virtual work of art on its own right, The Meyerson is home to works of art by Mark di Suvero and David Bates, among others. The heart of the facility is the McDermott Concert Hall, fashioned as a 'shoe box' style music chamber, establishing audio intimacy for artist and audience alike. In particular, a reverberation space around the top of the hall allows for more, or less reverb, depending on the needs of the performance. Further, a system of canopies, weighing more than 40 tons is suspended above the stage, and can be adjusted in a myriad of configurations, to reflect the sounds of the performers as needed, to assist the performers in hearing themselves, and accurately presenting their music to the audience.
Features within the Meyerson are appointed in Italian travertine marble, Indiana limestone, African (Makore) Cherrywod, American Cherry wood, and 211 glass panels, no two alike(comprising the Conoid windows)
Built for utility and beauty, the facility touts 2,062 seats, an 85-foot high ceiling in the concert hall, 4 private meeting rooms, and 50 restrooms. The voluminous lobbies and the concert hall in chief can accommodate a wide array of functions, from meetings and seminars to Trade shows and exhibits, from weddings or graduation festivities to photo or film shoots, all in an atmosphere all its own.
Each year, the Symphony Center hosts over 325 concert hall events, 20-30 banquets, 200 photo and film shoots, and over 800 hours of rehearsal and recording activities.As an added feature, the Meyerson Symphony Center also includes two restaurants- the formal Opus restaurant and the more casual atmosphere of Allegro.
Monthly organ recitals by the famed Lay Family Concert Organ, followed by a tour of the center. Tours generally last an hour, and is coordinated by the Greater Dallas Section of the National Council of Jewish Women.

Public Tours are given on select Mondays, Thursdays, and Fridays and Saturdays at 1:00 pm. Dates are subject to change, so it is best to call ahead. Private tours can be coordinated for groups of 15 or more with some date and time flexibility. Tour contact number is 214-670-3600.
Additional Information