Toledo Fire Department Memorial; Anthony Wayne Trail Fire (1961)
Introduction
This memorial was dedicated in 1963 and commemorates the firefighters and Toledo residents who perished in one of the city's worst disasters. On June 10, 1961 where Vinton Street meets the Anthony Wayne Trail, a tanker truck that was coming towards River Road uncontrollably flipped over and burst into flames. The truck burned for about fifteen minutes before exploding. Four Toledo firefighters perished while they battled the blaze while another six were injured along with 81 civilians who were also injured.
Images
Picture of the Anthony Wayne Trail Fire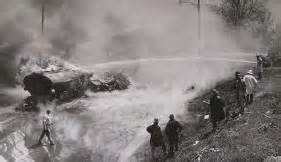 Anthony Wayne Trail Fire Article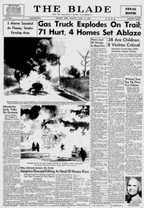 This memorial was dedicated in 1963 and is located directly across from the Toledo Fire Department headquarters.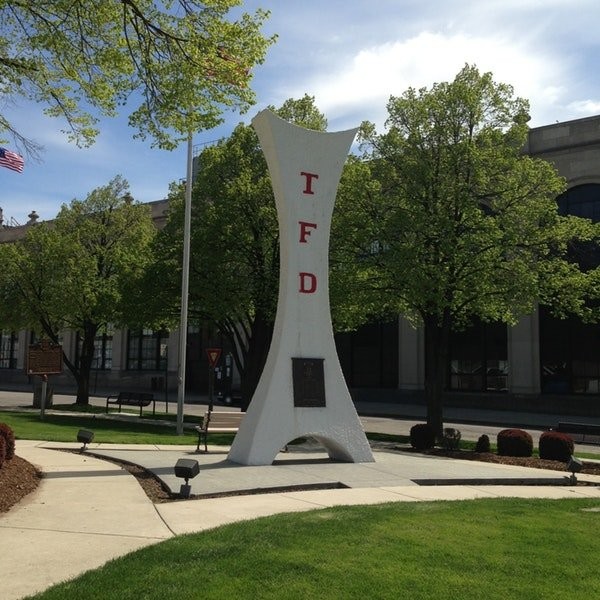 Backstory and Context
Over fifty firefighters responded to the fire. Unfortunately, many people, including children, came to witness the scene of what they assumed was a controlled fire. The explosion harmed many of the onlookers as flames shot hundreds of feet into the air. Four homes were destroyed and had it not been for the prompt action by members of the fire and police departments, the damage might have been even more devastating.
One year after the trail fire, the widows of the four firefighters broke ground for this memorial that was dedicated in 1963 in Chub DeWolfe Park. Every year since on or about June 10th, Toledo firefighters have gathered for a "Last Alarm" ceremony to commemorate those firemen killed in the line of duty and those who have passed on.


The fire is known as the Anthony Wayne Trail fire because it occurred on that Toledo street. Wayne was born on January 1, 1745 in Paoli, Chester County, Pennsylvania to Isaac and Elizabeth Wayne. He was one of five children of a Protestant Anglo-Irish family. Wayne was educated as a surveyor and assisted in starting settlements on land that his family owned in Nova Scotia. He served in the Pennsylvania legislature from 1774–1780. Anthony Wayne married Mary Penrose in 1766 and they had two children, a daughter named Margretta who was born in 1770 and a son named Isaac Wayne who was born in 1772.
In 1792, Wayne was appointed by President George Washington to serve as commander in chief of the U.S. Army.
He had a victory at the Battle of Fallen Timbers which enabled Wayne to negotiate the
Treaty of Greenville.
Anthony Wayne was revered as one of America's great soldiers, and the Anthony Wayne Trail is just one of the many places named after General Wayne. Today, Wayne's skill as a military leader is tempered by a recognition that many of the Native American tribes he fought were trying to defend lands that had been guaranteed to them by previous treaties.
Sources
"Anthony Wayne." Encyclopedia Britannica. Last updated August 18, 2014, http://www.britannica.com/EBchecked/topic/638108/Anthony-Wayne.

"Anthony Wayne family papers 1681-1913." University of Michigan - William L. Clemens Library. Accessed March 31, 2015. https://quod.lib.umich.edu/c/clementsmss/umich-wcl-M-398way?byte=6519384;focusrgn=bioghist;subview=s...

"Gas tanker explodes on Anthony Wayne Trail, February 10, 2011, http://www.toledohistorybox.com/2011/02/10/gasoline-tanker-explodes-on-anthony-wayne-trail/
Additional Information