The Murder of Eugene Williams and the 1919 Chicago Race Riot Marker
Introduction
This small plaque along Chicago's Lakefront Trail shares the tragic story of the 1919 Chicago Race Riot and the event that sparked one of the worst episodes of racial violence in the Red Summer of 1919. The marker is near the place where Eugene Williams, an African American teenager, was stoned to death by white men while he and friends were swimming in Lake Michigan on July 27th, 1919. Williams and his friends were enjoying a day at the 25th Street Beach, which was reserved for African Americans when their raft drifted towards the 29th Street Beach which was reserved for whites. While Williams' friends abandoned the raft and swam to the safety of the 25th Street Beach, Williams, who could not swim, was at the mercy of white beachgoers. The summer of 1919 had been marked by high racial tension as white residents unleashed anger and resentment at the growing Black population that was part of the Great Migration. Near this location on that fateful July afternoon, several white young men who had been influenced by expressions of racism decided to join the attack against African Americans by throwing stones at Eugene Williams. Similar to the protests by adult whites against Black Americans for entering "their" city, these youth attacked Williams for entering "their" beach. This event sparked a wave of violent riots throughout the city that resulted in the deaths of 23 African Americans and 15 whites. There were at least 500 serious injuries and millions of dollars of property damage as 1,000 Black families were left homeless as a result of arsonists.
Images
One of the hundreds of photos showing the destruction of Black communities in Chicago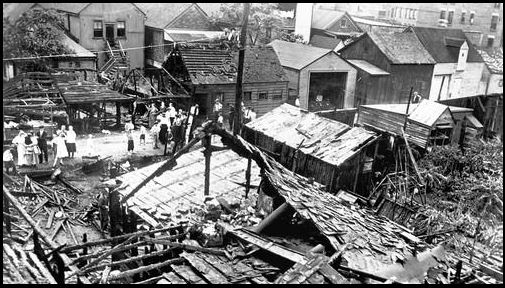 This small plaque is located on a stone and was dedicated in 2000. It is important to note that the selected quote from MLK Jr. was in reference to protests in the 1960s.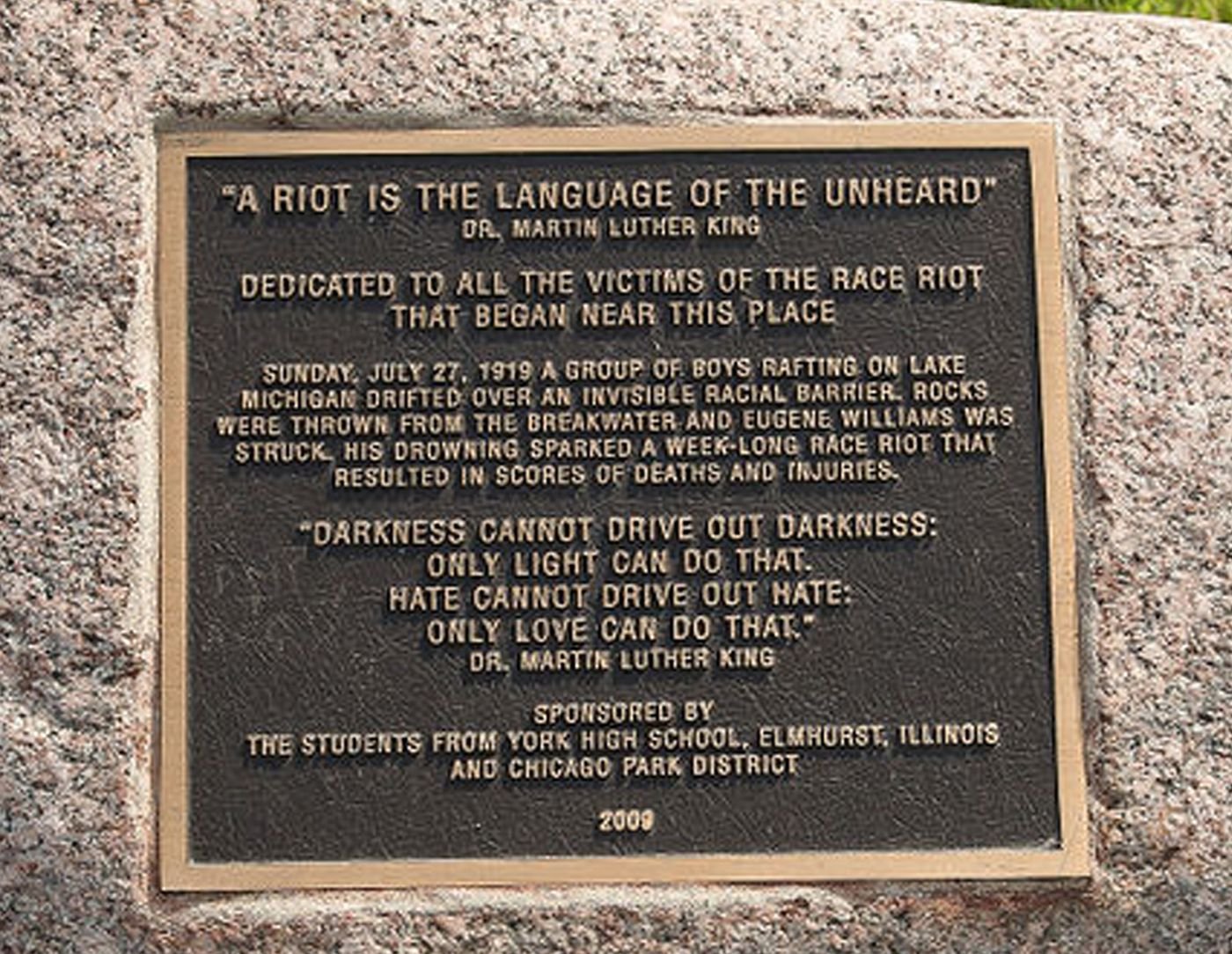 Backstory and Context
In Chicago during the year 1919, tensions between races were heavily building throughout the city. The tensions were a result of the mass migration of African Americans from the South, to Northern industrialized cities during World War I. These migrations resulted in the positions previously held by whites in factories and other employers being replaced by the Blacks who had migrated to the cities. When World War I was over, white veterans were returning to their places of previous employment only to see their positions taken by African Americans.
Racial tensions already existed at this point, and the murder of Eugene Williams sparked some of the worst race riots in United States history. The segregation of the beach along Lake Michigan between 25th and 29th streets was unofficial which meant that there was nothing physically dividing the Black beach from the white beach. While Eugene Williams was swimming, he accidentally crossed this unofficial boundary, and a group of white men began throwing stones at him. Williams attempted to swim away from his attackers but between their stones and his inability to swim he was unable to reach safety and drowned.
After his lifeless body washed to the shore of the 29th Street Beach, his mother and a group of African Americans went to the 29th Street Beach. Whites interpreted the arrival of African Americans on the white-only beach as a sign of aggression and spread wild rumors about an inevitable war of the races. In response to these rumors, whites attacked Black homes, churches, and even began attacking any person of color in the city.
The riots began when the white men responsible were not arrested even though there were many eyewitnesses who could testify of their guilt. During these riots, whites and Blacks brutally beat and murdered each other which ended with 23 Blacks and 15 whites dead. Around 500 other Blacks and whites were also injured, with the majority of those people being Black. A large amount of property was also destroyed which resulted in over 1,000 Black families being homeless.
These events also lead to riots occurring in many other places around the United States including Washington, D.C., Nebraska, Texas, Arkansas, and Tennessee. The aftermath of these riots included talks of formal segregation of neighborhoods and workplaces. The most beneficial impact would be the beginning of changes regarding race relations in Chicago.
Sources
The University of Chicago. Mapping the 1919 Chicago Riot. Chicago 1919: Confronting the Race Riots. Accessed July 27, 2019. https://1919map.rcc.uchicago.edu/.

"The 1919 Race Riots." Chicago Tribune. Accessed February 19, 2015. http://www.chicagotribune.com/news/nationworld/politics/chi-chicagodays-raceriots-story-story.html.

Issa Nader. 1919 race riots: the seminal Chicago event that many know almost nothing about. Chicago Sun-TImes. July 26, 2019. Accessed July 27, 2019. https://chicago.suntimes.com/2019/7/26/8932343/chicago-1919-race-riots-beach-100th-anniversary-red-summer.


Additional Information