Union Station
Introduction
Louisville's Union Station is a historic L&N Railroad station currently housing the Transit Authority of River City (TARC). Though the present Union Station was completed in 1891, the site had been an L&N depot since 1856, and played an important role in supplying Union troops during the Civil War. Union Station provided the entrance to Louisville for many visitors, with its height of activity occurring in the 1920s, when it served 120 trains a day. In addition to its history as a railway station, the building offers displays on the history of public transit in Louisville since 1865.
Images
Union Station (image from TARC)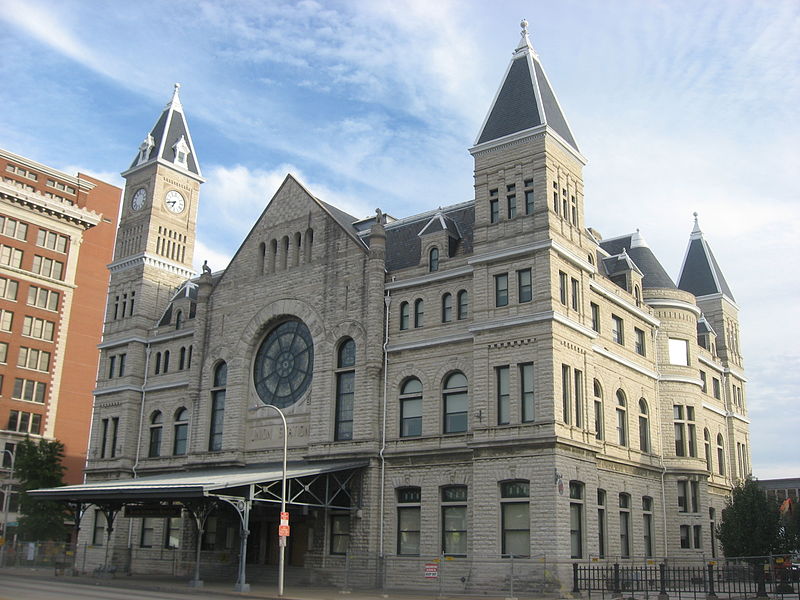 Restored interior of Union Station, now TARC headquarters (image from Mapio)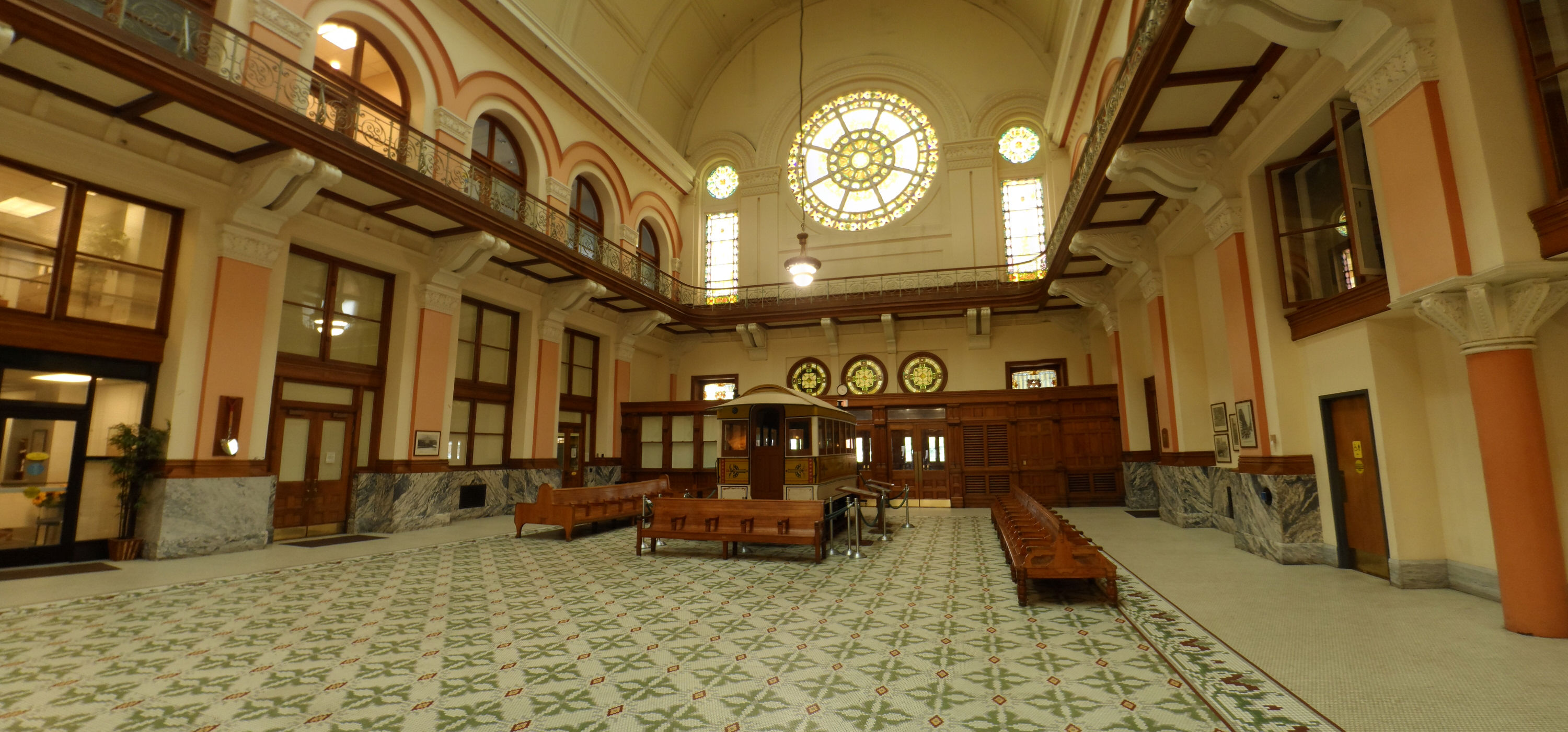 Union Station, 1973 (image from the National Register of Historic Places)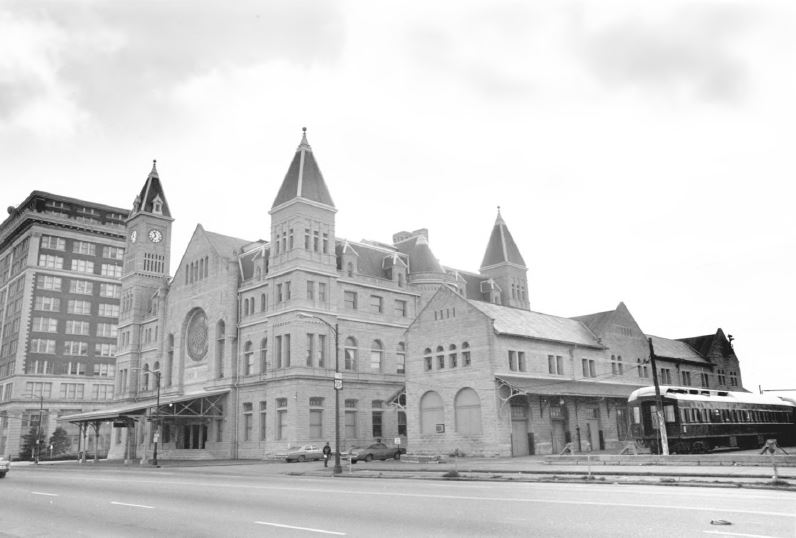 Union Station interior, 1973 (image from the National Register of Historic Places)
Aerial shot of the Union Station complex c.1923 (image from the National Register of Historic Places)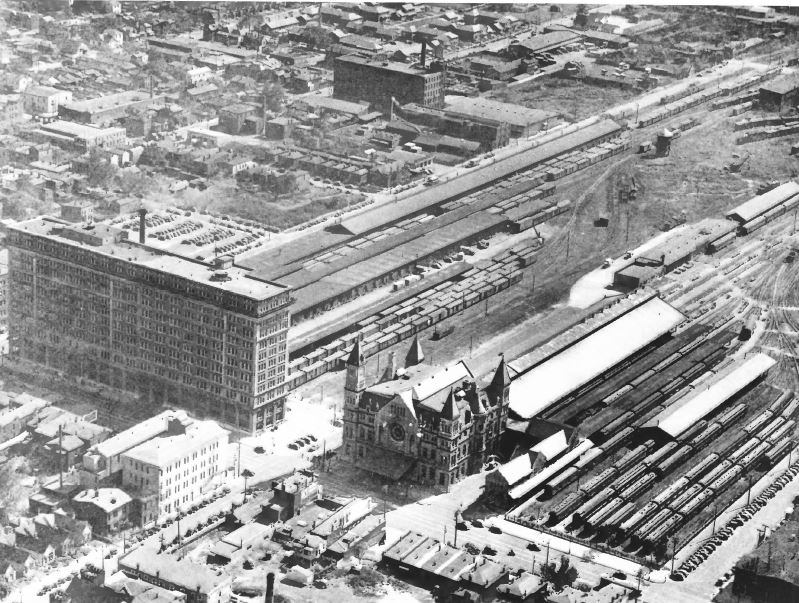 Postcard of Union Station: Note the interurban electric trolley lines on Broadway (image from USGenWeb Penny Postcards of Kentucky)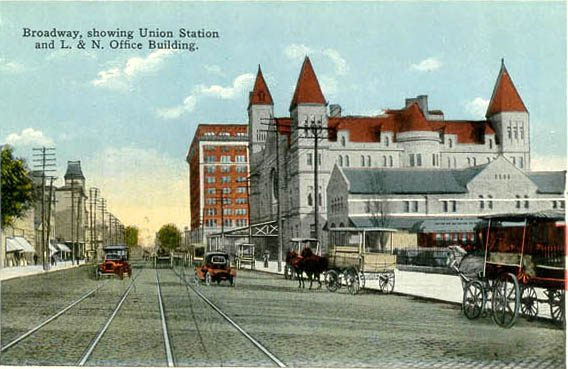 Backstory and Context
The Louisville & Nashville Railroad and Union Station
The Kentucky General Assembly chartered a rail line for freight and passengers traveling between Louisville and Nashville in March of 1850. Merchant and industrialist L.L. Shreve founded the L&N Railroad Company, set up offices at Main and Bullitt Streets, and laid the first tracks in July of 1855. The first train ran the following month, and according to an 1856 map, the initial passenger depot located at 9th and Broadway had been constructed by the next year. L&N records indicate this was a frame structure, and part of the original train shed still stands at today's Union Station. The original station on the site was dedicated in 1858, the year before the first train ran between Louisville and Nashville.
Despite the outbreak of the Civil War, the L&N Railroad Company prospered, possibly due to the business-savvy company president James Guthrie, who supplied both the Union and Confederate armies in the first year of the war. As the war progressed, the L&N provided the only North-South rail link for Union supplies in the Western sector, utilized by Generals Grant and Sherman and repeatedly raided by Confederates including General John Hunt Morgan. Along with the rest of Louisville, L&N enjoyed a post-war economic boom, and became the most influential political lobby in the state of Kentucky. The company planned a replacement for their depot at 9th and Broadway and even had an architect render a design in 1873, but a national economic downturn delayed construction. In the meantime, however, L&N purchased land west of 10th Street for expansion and completed a foundation--and nothing more--for a new depot. After this foundation was abandoned, construction in 1889 finally began on the present Richardsonian-Romanesque style Union Station, designed by L&N's chief architect, British immigrant F.W. Mowbray.
The brick structure of Union Station, dedicated on September 7, 1891, is faced with Bowling Green, Kentucky limestone and Bedford, Indiana limestone trim, topped with a slate roof supported by wood and iron trusses. All contracting went to Louisville firms, except for the New York-contracted art-glass skylight and Connecticut-built clock mechanisms in the tower. Inside were waiting rooms and lounges, ticket offices, telegraph offices, dining rooms, a barber shop, a news stand, and an enormous vaulted center. The complex also included trainsheds, a covered connector porch, and a baggage depot. Upon its completion, it was the largest station in the South. By that time, L&N trains had expanded well beyond its original two-city run, offering trains to and from Birmingham, Montgomery, New Orleans, St. Louis, Pensacola, Mobile, and Cincinnati. Knoxville and Atlanta were added to the list by 1905, the same year a fire spread from a record storage room in the northwest tower, destroying the interior of the station. Passengers and employees escaped safely as the skylight crashed down. Although a section of the southeast corner collapsed, the structure proved sturdy enough for reconstruction, and only four months after the fire, the station reopened on December 3, 1905. The next year the present Beaux-Arts tower was added, and architect John A. Calvin expanded the station complex to fill the entire block by the 1920s. Passenger service peaked in 1922 with 120 arrivals and departures per day. The station's first trains to Paducah and Chattanooga departed in 1957, and to Chicago in 1969. On Halloween of 1976, the last Amtrak train to depart from Union Station left for Nashville.
Between its dedication in 1891 and its last passenger run in 1976, Louisville's Union Station had welcomed to the city nearly every immigrant who arrived in that time period, as well as military personnel including General Pershing; actress Sarah Bernhardt; presidential candidate Thomas E. Dewey; and U.S. Presidents Franklin D. Roosevelt, Harry S. Truman, and Dwight D. Eisenhower.
TARC and Today's Union Station

Kentucky Carriers, Inc. sent its first Model 50 out in 1923, providing Louisville with its original public bus system. Kentucky Carriers was owned by the Louisville Railway Company, later named the Louisville Transit Company (LTC), which traced its roots back to the years of the Civil War. Interurban railway service via electric trolleys was entirely replaced by diesel buses in the 1940s. As with other cities' public transit, ridership declined in the 1960s, and in 1971, the LTC reported its first loss. The Transit Authority of River City (TARC) formed in 1971 as a city-operated mass transit system in order to seek local funding and federal grants to maintain services. TARC purchased LTC within the next few years, reducing fares, opening additional lines, and replacing old buses; then purchased the suburban Blue Motor Coach Lines in 1976 and the Daisy Line between New Albany and Louisville in 1983.
In order to purchase the then-vacant Union Station complex, TARC obtained a federal grant and began restoration of the buildings in April of 1979. An opening ceremony was held the following year, and Union Station became the headquarters and administrative offices of TARC. The first floor is open to the public, with original train passenger benches and displays including one of the last extant mule-drawn trolley cars (used by the Louisville Railway Company from 1865-1901) in the United States.
Sources
1. Historic Landmarks and Preservation Districts Commission. "Union Station." March 24, 1975. Accessed March 13, 2017. https://npgallery.nps.gov/NRHP/GetAsset/bf54297f-5412-4501-a67e-b1c39da013c9/?branding=NRHP.
2. Kentucky Historical Society. Historical Marker Database: Jefferson County. Accessed March 10, 2017. http://migration.kentucky.gov/kyhs/hmdb/MarkerSearch.aspx?mode=County&county=56.
3. TARC. Official website. Accessed March 30, 2017. https://www.ridetarc.org/about/history-and-union-station.
4. Thomas, Margaret A. "Union Station." National Parks Service, National Register of Historic Places. August 7, 1975. Accessed March 13, 2017. https://npgallery.nps.gov/NRHP/GetAsset/bf54297f-5412-4501-a67e-b1c39da013c9/?branding=NRHP.

Additional Information