Joe Gans and the Goldfield Hotel Historical Marker
Introduction
In 1902, Baltimore native Joe Gans won his place in history as the first African American world boxing champion. At that time, however, his most famous fight was still four years away. In 1906, Gans emerged victorious after boxing a grueling 42 rounds against Oscar Nelson in Goldfield, Nevada. As news of this bout spread, so did Gans' fame and opportunities for more lucrative prize fights. Capitalizing on this fame and investing his winnings, Gans established a hotel at this location in Baltimore in 1907 and dubbed it the Goldfield Hotel recognition his victory. The hotel's nightclub was notable for being among the first integrated entertainment spaces in the city. The hotel once stood on the corner of East Lexington and Colvin Streets. Gans died in 1910 and the building later served as the home of a grocery store before it was demolished in the 1960s. The site of the hotel is now a post office complex.
Images
This small marker can be found at the corner of Colvin and East Lexington Street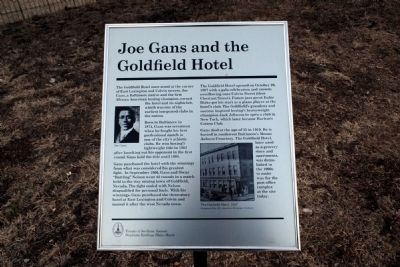 Goldfield Hotel and Nightclub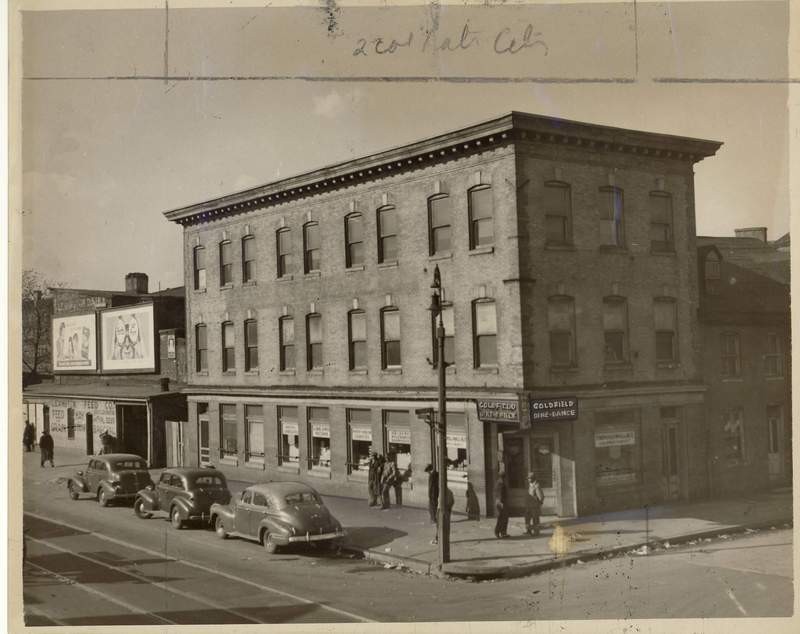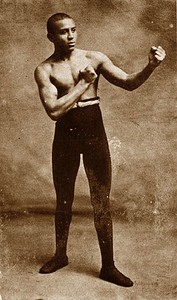 Flier for Gans' most famous fight against Nelson in 1906 in Goldfield, Nevada.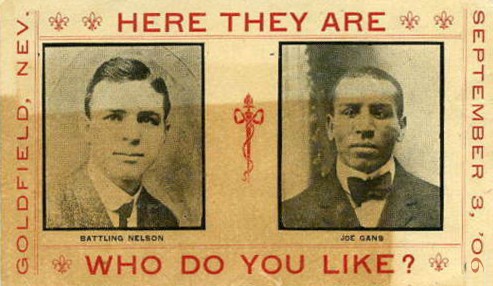 Backstory and Context
Joe Gans, born Joseph Saifuss Butts on November 25th, 1874, was the first American-born Black boxing world champion. Butts was adopted and took his mother's last name, Gant. In response to the media misspelling his name, the young boxer simply changed it to "Gans." In 1902 Gans won "the world lightweight boxing title in Fort Erie, Canada, with a spectacular one-round knockout of the defending champion, Frank Erne."
During his storied career, Gans was known as the "Old Master" and was one of the first to fight with gloves marking the transition from the era of bare-knuckle fights to the modern era. For eighteen years Gans fought in three divisions: featherweight, lightweight, and welterweight. Gans achieved 150 career wins with at least 100 knockouts.
Joe Gans invested a significant amount of his winnings into businesses within his Baltimore community. Gans opened a saloon, a gymnasium, as well as the Goldfield Hotel and its nightclub at this location. Gans opened the Goldfield Hotel with his winnings from his most famous fight against Oscar Nelson which occurred in Goldfield, Nevada in 1906. The fight lasted 42 rounds and Nelson ended up being disqualified for personal fouls. In 1908, Gans fought Nelson two more times and lost both matches. By that time in his career, Gans was succumbing to tuberculosis and died of the disease in 1910.
The Goldfield Hotel opened on October 29th, 1907, with a "gala celebration and crowds overflowing on Colvin Street (then Chestnut Street)." 1 The hotel's club is where Eubie Blake, a future jazz great, got his start as a piano player. The club was one of the first integrated clubs in the community as both white and Black Baltimoreans were welcome in an era where the color line was often strictly enforced and Black musicians either played at white-only clubs or played for Black audiences in Black-owned clubs. Gans' success with his hotel venture inspired other boxers to follow in his footsteps. for example, heavyweight champion Jack Johnson established a nightclub in New York.
Joe Gans died at the age of 35 from tuberculosis on August 10th, 1910. The hotel was later used as a grocery store and then was demolished in the 1960s. Now the site is home to a post office complex but a small marker shares the story of Joe Gans and the Goldfield Hotel.
Sources
"Gans Defeats Herman," Black Virginia: The Richmond Planet, 1894-1909, accessed July 28, 2019, http://Blackvirginia.richmond.edu/items/show/3.
"Joe Gans and the Goldfield Hotel Marker." The Historical Marker Database. Accessed February 17, 2015.
"Welcome To The Glory Days of Boxing." Joe Gans. Accessed February 18, 2015.
Special Collections, Maryland State Archives. Accessed February 18, 2015.
Additional Information