Horlick Field
Introduction
The Horlick Field is a long-standing athletic field established in the early part of the 20th century. The Field was home to numerous teams from different sports over its decades of operation, including baseball and NFL football teams. Notably, beginning in 1943 they were home to the Racine Belles, one of the teams featured in the film A League of Their Own, and part of the All-American Girls Professional Baseball League.
Images
Plaque at Horlick Field (9).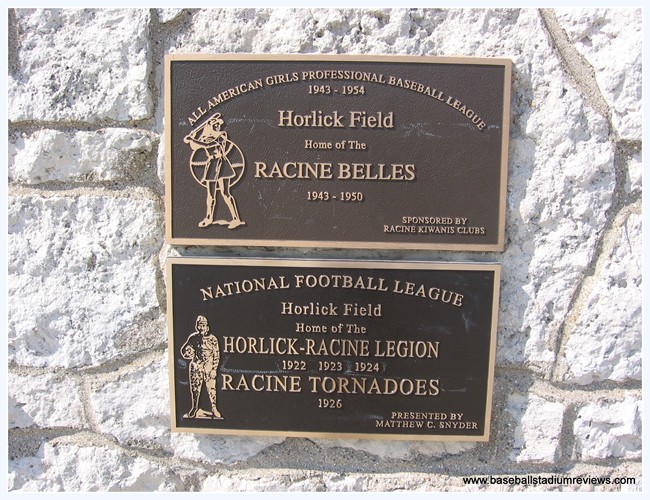 Old photo of historic Horlick Field (10).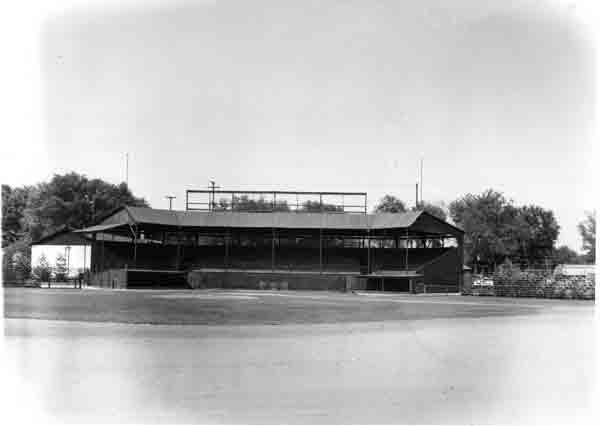 Racine Belles at Horlick Field (Courtesy of The History Museum, South Bend)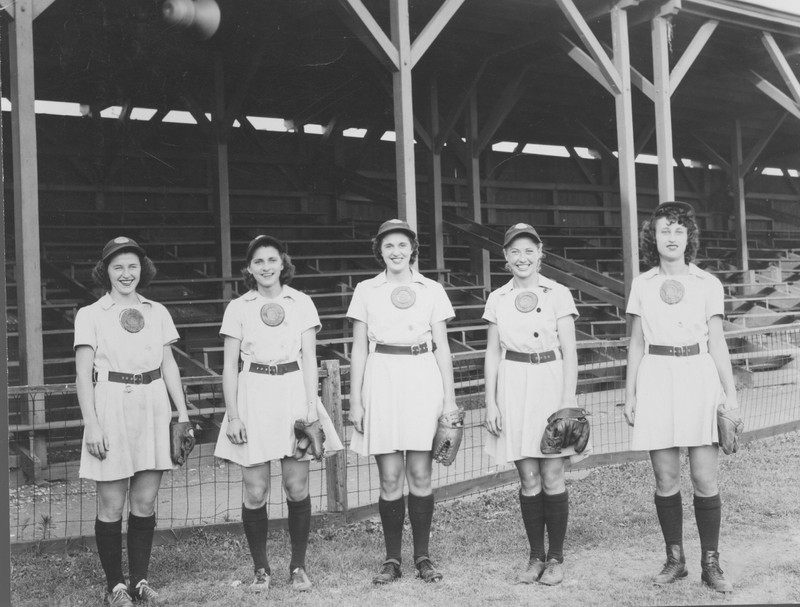 The dugout at Horlick Field (Courtesy of The History Museum, South Bend)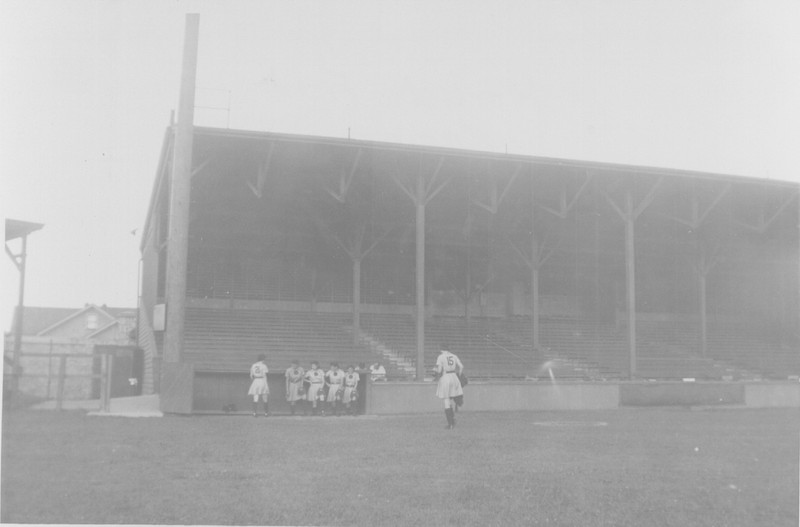 Backstory and Context
Horlick Athletic Field was established in 19191 in honor of William Horlick, a millionaire with humanitarian interests: he also developed malted milk, a nutrient-enriched product, and invested substantial amounts of his fortune in developing hospitals and promoting polar exploration. 2 Horlick Field has been home to both baseball and football teams. In the beginning, Horlick Field hosted the team that would later be known as the Green Bay Packers. Eventually, as men were sent to war and women began to step into their roles at home, including major sports – this led to the birth of the Racine Belles, another noteworthy team to call the Horlick Field home.3
The Racine Belles was a strong team that distinguished itself in multiple ways, including winning a Championship equivalent to the Major League World Series.4 Key players included Joanne Winter, Mary Nesbitt, Irene Hickson, and Mickey Macguire.5 Although the film depicts a fictionalized version of history, A League of Their Own features the Racine Belles matched against the Rockfield Peaches for the 1943 World Series.6
While the Racine Belles only played through 1950, the Field was used for other purposes after their retirement. Horlick Field has also been used for the local drum and bugle corps.7 The field still stands today, although it's infrequently used by modern teams.8
Sources
1. https://historypress.net/catalogue/bookstore/books/Racine%E2%80%99s-Horlick-Athletic-Field/9781626194441 2. http://www.rootsweb.ancestry.com/~wiracbio/zmound/horlickmau.htm 3. http://journaltimes.com/lifestyles/treasures/local-national-history-has-been-made-at-horlick-field/article_4d9ee486-538d-5173-9ebc-ea2c7d0f63a5.html 4. http://www.aagpbl.org/index.cfm/teams/1943/racine-belles/3 5. http://www.aagpbl.org/index.cfm/teams/1943/racine-belles/3 6. http://www.imdb.com/title/tt0104694/trivia 7. https://historypress.net/catalogue/bookstore/books/Racine%E2%80%99s-Horlick-Athletic-Field/9781626194441 8. http://journaltimes.com/lifestyles/treasures/local-national-history-has-been-made-at-horlick-field/article_4d9ee486-538d-5173-9ebc-ea2c7d0f63a5.html 9. http://baseballstadiumreviews.com/Stadium%20Home%20Pages%20-%20Minor%20League/Racine,%20WI.html (Image 1) 10. http://www.projectballpark.org/history/aagpbl/horlick.html (Image 2)
Additional Information