Ralph Waldo Emerson House
Introduction
This house was purchased by writer, poet, and philosopher Ralph Waldo Emerson (1803–1882) in 1835. It was where he wrote all of his major works, and was a major meeting point for Transcendentalists, including Bronson Alcott and Henry David Thoreau. It has been a house museum since 1930.
Images
Vault A35, R.W. Emerson, Unit 4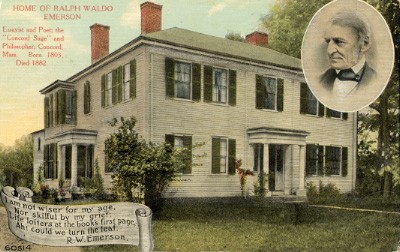 Ralph Waldo Emerson, c. 1884 Library of Congress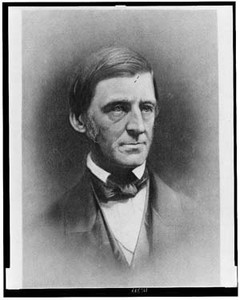 Ralph Waldo Emerson House Courtesy of Ann Chapman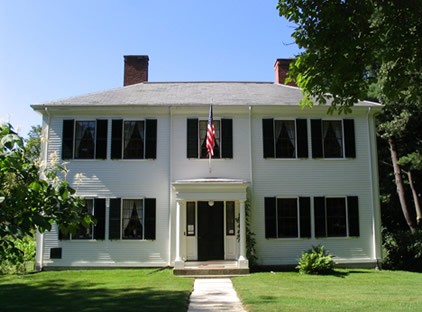 Backstory and Context
Located in Concord, MA, it is the first permanent home in the largely rural community of Ralph Waldo Emerson after his marriage in 1835. Ralph Waldo Emerson is known as transcendental philosopher, poet, and lecturer. This house was a place that he composed his most important written works including Nature in 1836 and Self Reliance in 1841.
In 1835, Ralph Waldo Emerson purchased the property which included the house, the house, a barn, and two acres of land. After that he conducted the renovation to add two more rooms, and expand this property to nine acres. He was used to do his reading and writing in the right of the main entrance of the house. The house was located on the stagecoach run, this is convenient to direct guest to the door.
On July 24, 1872, the roof and much of second floor of his house was destroyed by fire. Fortunately, townspeople had saved his books and manuscripts. After the fire, his friends gave a hand to pay for the restoration of his house. Emerson spent his life in this house until his death in 1882. The Emerson family owned this house until Emerson's son Edward died in 1930. To maintain and manage the Emerson house and property, the Ralph Waldo Memorial Association was established.
Sources
"Ralph Waldo Emerson House".nps. Retrieved Mar 28, 2015 from http://www.nps.gov/nr/travel/massachusetts_conservation/ralph_waldo_emerson_house.html
Additional Information