John Seigenthaler Pedestrian Bridge
Introduction
Formerly the Shelby Avenue (or Shelby Street) Bridge, the John Seigenthaler Pedestrian Bridge spans the Cumberland River and is one of the longest pedestrian bridges in the world, measuring 3,150 feet long and 36.4 feet wide. It is a steel truss bridge, built in 1909 but substantially refurbished since. It was originally constructed as a vehicular bridge but was reopened as a pedestrian bridge in 2003. Because of its age and unusual construction, it was named to the National Register of Historic Places in 1998. Its eastern terminus is close to LP Field sports stadium; its western terminus faces Schermerhorn Symphony Center. It is also near the Country Music Hall of Fame and other Nashville landmarks. It was renamed in 2014 after John L. Seigenthaler, a prominent local journalist, former public official, and activist.
Images
The John Seigenthaler Pedestrian Bridge by day
The John Seigenthaler Pedestrian Bridge by night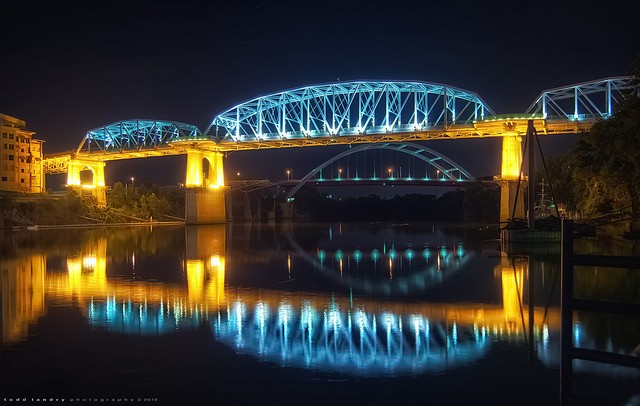 Backstory and Context
Originally called the Sparkman Street Bridge, it was constructed early in the 20th Century as a vehicular bridge over the Cumberland River at a total cost of $475,000 (quite a sum at that time) and opened on July 5, 1909. It was the first steel truss bridge in North America, consisting of a light gray concrete substructure under a steel superstructure. The project was designed and supervised by Howard M. Jones of the Nashville Chattanooga and St. Louis Railway. It was originally built directly adjacent to the Jefferson Street Bridge, which was demolished in 1990.

The bridge – and a local journalist – made headlines in October 1954 when a middle-aged man named Gene Bradford Williams threatened to jump from it into the Cumberland River. He called the local newspaper, The Tennessean, to send a reporter to record his last words, and the paper assigned the young journalist John L. Seigenthaler to cover the story. After he interviewed the man, who was despondent over family problems, for 40 minutes, Williams poised as if prepared to jump, at which point Seigenthaler reached out and grabbed him by the collar and held him until the police arrived. "I'll never forgive you," Williams cried, though he later thanked Seigenthaler. (Seigenthaler went on to become, briefly, an official in the Kennedy Administration and to establish a notable career as a journalist and human rights activist; he eventually became chairman emeritus of The Tennessean.)

The bridge needed to undergo several major repairs during its history, first in the late 1920s and then thirty years later. In the 1990s, it was judged to be in "poor" condition and was closed to vehicular traffic in 1998. The possibility of demolishing it was considered, but a public outcry led to the decision to completely refurbish the structure as a pedestrian bridge with a 15-foot bicycle lane in the center, which was completed at a cost of $15 million, including an extensive new lighting system and an elevator, ramps and stairways. It officially reopened on August 3, 2003.

The bridge is attractive by day, but, with its multicolored illumination, it is spectacular at night and is perfect for photography or late night strolls. It provides a convenient connection by foot or bicycle between LP Field on the east side of the city with major downtown tourist attractions on the west side, such as the Country Music Hall of Fame and the adjacent Music City Center. Because of its history, distinctive appearance and location in the country music capital, the bridge is often used as a location for shooting music videos. The video accompanying the Dolly Parton song, "Together You and I" and Big and Rich's popular video for "Save a Horse (Ride a Cowboy)" were both shot on the bridge. However, the production of the latter video caused substantial damage to the structure, mostly because of the horses that were used.

In April 2014, just a few months before John Seigenthaler's death, the Shelby Avenue Bridge was renamed the John L. Seigenthaler Bridge, in honor of the journalist's career and his active participation in the life of his hometown, Nashville, and for his dramatic rescue of Gene Williams nearly 60 years before.


Sources
Cass, Michael. "John Seigenthaler honored with renaming of bridge."
Tennessean
. April 29, 2014. http://www.tennessean.com/story/news/2014/04/29/john-seigenthaler-honored-renaming-bridge/8494057.
"John Seigenthaler Pedestrian Bridge." The New Nashville [Blog]. October 27, 2013. https://thenewnashville.wordpress.com/2013/10/17/shelby-street-pedestrian-bridge.
"Shelby Street Pedestrian Bridge." tnvacation.com. Accessed March 27, 2015. http://www.tnvacation.com/vendors/shelby-street-pedestrian-bridge.
"The Seigenthaler Times." The Community Foundation of Middle Tennessee. November 8, 2012. http://www.the-wood-family.org/Tom/Nashville/SeigenthalerTimes_final.pdf.

Sturtevant, Mark. "Shelby Street Bridge." National Park Service - National Register of Historic Places Nomination Form. November 20, 1986. https://npgallery.nps.gov/GetAsset/00620dec-0603-472e-bf68-f27ca5e819c6.
Additional Information