Ray Winder Field (1931-2011)
Introduction
Constructed in 1931 in Little Rock Arkansas, Ray Winder Field, also known as Travelers Field, was the long-time home of the Little Rock Travelers, a minor league baseball team. For over seventy years, this was the team's home and host to other barnstorming teams. The Travelers have since moved to Dickey-Stephens Park in North Little Rock. The historic ballpark was demolished in 2011 and the site is now a parking lot for the medical sciences department of the university.
Images
Ray Winder Field was home to a number of local teams prior to its demolition in 2011.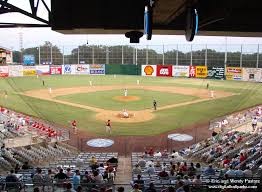 Backstory and Context
Ray Winder Field was opened on April 13, 1932 after the Little Rock Travelers vacated Kavanaugh Field following the 1931 season. The ballpark was named after Raymond Winder, a longtime patron of Traveler baseball. Raymond began as a ticket seller in 1915, became business manager in 1931, and in 1944 became a part owner.
The Travelers called Ray Winder Field home for over 70 years with the exception of 1958 when the Travelers moved to Shreveport and in 1959 the stadium sat empty, leaving Little Rock without a ball club for the first time since 1914. A public stock drive would later able the city to purchase a bankrupt team from New Orleans and thus the Travelers would return to Little Rock for the 1960 season.  The ballpark also played host to barnstorming teams in the 1940s such as the Memphis Red Sox, Birmingham Black Barrons, and Kansas City Monarchs. During the 1945 season, the Little Rock Black Travelers of the Negro Southern League would also call the park home,
By 2005 construction on a new stadium, Dickey-Stephens Park, in North Little Rock, had begun. The final game was played on September 3, 2006, to a capacity crowd. The Travelers moved their new home for the next season in 2007 and Ray Winder Field would sit empty for the next 5 years. As that time passed, locals would discuss the fate of the site, some wanting to preserve and use the facility, some wanting to use the land to expand such things as the University of Arkansas or the Arkansas Zoological Foundation. On May 14, 2011, the park was opened one last time to let patrons collect memorabilia and bleachers on a first-come, first-serve basis. In the end, the city had no interest in preserving the field, and the property was handed over to the University of Arkansas Medical Science Department, to be used as a parking lot.