Cedar Rapids Museum of Art
Introduction
The Cedar Rapids Museum of Art is located in downtown Cedar Rapids, Iowa. It has over 63,000 square feet of exhibit space and contains collections of famous artists such as Grant Wood (the painter of "American Gothic"), Marvin Cone, and Bertha Jaques. It also contains a collection of ancient Roman busts. It obtained accreditation from the American Alliance of Museums in 1981. Tours of Grant Wood's studio nearby is open to tours several days a week.
Images
Sculptures outside of the museum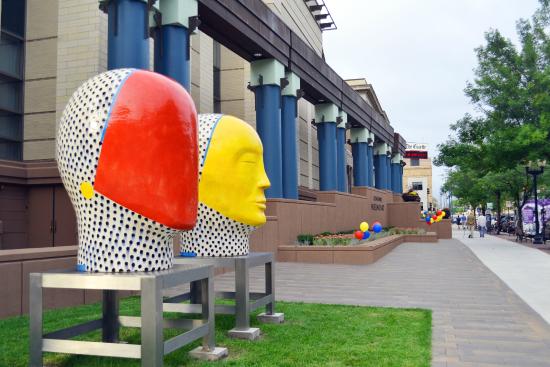 Backstory and Context
The museum and the community's collection dates back to the efforts of community leaders to plan an art museum following the Chicago World's Fair at the turn of the century. The fair inspired community leaders to form an art club. Ten years later, the club was offered a gallery in the Carnegie Library and the club incorporated as the Cedar Rapids Art Association. The association acquired their first painting in 1906.

During the 1920s-1930s is the period when Grant Wood and the other famous artists were members of the association. Wood painted American Gothic during this time. In the 1960s the association moved into another building and changed its name to the Cedar Rapids Art Center. In 1989, the Carnegie Library became available and the and an addition was built next to it, the new building and the Library became the Cedar Rapids Art Museum.
Sources
"History of CRMA". http://www.crma.org/Content/About/History-of-CRMA.aspx http://en.wikipedia.org/wiki/Museum_of_Art_Cedar_Rapids
Additional Information