Engineering Hall (Marston Hall)
Introduction
Engineering Hall, now called Marston Hall, is an historic building located on Iowa Stat University's campus. It was named after Anson Marston, former dean of the engineering school and designer of the the water tower near the building, in 1947. It listed to the National Register of Historic Places in 1982. It is currently closed and undergoing major renovations.
Images
Marston Hall, formerly Engineering Hall
Older photograph of Engineering Hall and the water tower behind it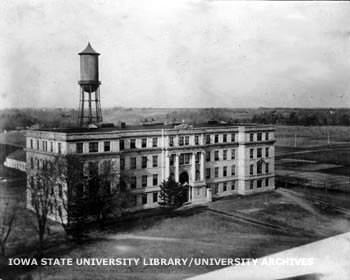 Backstory and Context
Engineering Hall was built between 1900-1903 and in the Second Empire style. Originally it housed the schools of Engineering and Physics as well as the State Highway Commission. Its name was changed to Marston Hall in 1947; Marston was informed of the decision on his 80th birthday. Renovations began in July of 2014 and are scheduled to be complete by May 2016.
Sources
Jacobsen, James. "Engineering Hall", National Register of Historic Places. 1-10-83 http://pdfhost.focus.nps.gov/docs/nrhp/text/83000402.PDF http://www.engineering.iastate.edu/the-college/engineering-buildings/marston-hall/ https://www.fpm.iastate.edu/maps/buildings/building.asp?id=86
Additional Information