Maxcy-Rhett House
Introduction
This historic home was built in 1810 and initially belonged to Massachusetts businessman and founder of Beaufort College, Milton Maxcy. In the mid 19th century, it was bought by South Carolina senator, planter, and lawyer, Edmund Rhett. Robert Rhett, Edmund's brother, was also an active member of southern society, having served as South Carolina Attorney General, a congressman, and senator. Both men were avid supporters of states' rights and southern sectionalism. Before the Civil War in the 1850s, the brothers hosted many discussions about secession at the house. The Maxcy-Rhett house is often called the "Secession House" for its role as home to a considerable portion of the political discourse that would contribute to the impending American Civil War.
Images
The historic marker at the site of the Maxcy-Rhett house in Beaufort, South Carolina.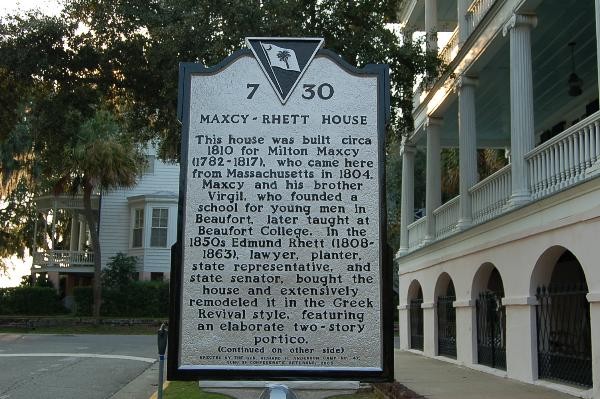 A front view of the Maxcy-Rhett House in Beaufort, South Carolina.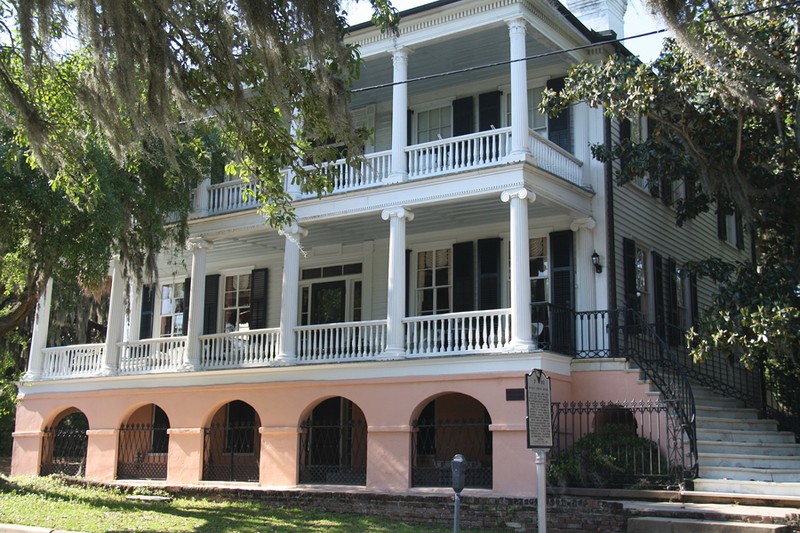 A sketch on Robert Rhett published in a local newspaper in 1861.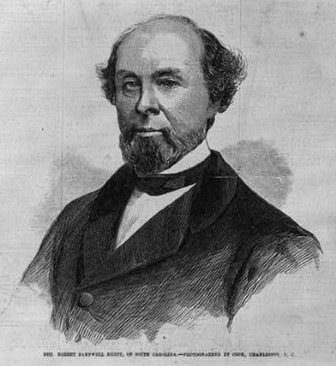 Backstory and Context
Beaufort, South Carolina was home to Massachusetts businessman, teacher and Beaufort College founder, Milton Maxcy, after he moved here in 1804. The town of Beaufort and the surrounding islands were founded primarily by Englishmen who had previously settled in New England yet later decided to move South to pursue those agricultural ventures specific to the region. Maxcy would begin construction on the house, but it would later be sold to South Carolina senator, planter, and lawyer, Edmund Rhett, in the mid 19th century.
Rhett added a number of upgrades to the property, remodeling it in the Greek style. The Rhett house is not only a landmark because of the part it played leading up the Civil War, but also because of its quintessential old southern architecture. The house's grand architectural elements are predominately improvements added on by the Rhetts. These features include the Ionic columns on the first level and the Corinthian columns on the second. The home also features a two-story veranda that runs all along the west, south, and east faces of the house with various piers and arches. When entering in the front door one is greeted by a large central stairway accented with a Palladian window. The house is a picture of old Southern wealth and architectural grace.
Robert Rhett is known for more than creating a beautiful and historical home, he also would play an integral role in South Carolina's secession. Rhett was born in Beaufort in 1808 to the wealthy Smith family, who would later change their last name to Rhett. He began practicing law there in 1824, and joined the state legislature in 1826. Rhett married Elizabeth Washington Burnet the next year. He would become attorney general of South Carolina just eight years later, and three years after that a United States Congressman as the Democratic replacement for John C. Calhoun. Rhett was a prominent voice for states rights, the continuation of slavery and one of the earliest supporters of secession. He and his brother, Robert Rhett, who had also served as a South Carolina Attorney General, and a congressman, and senator shared these sentiments. Both men would hold meetings of representatives and prominent community leaders in the home, discussing the prospect of secession. Aside from these informal in home discussion Rhett also participated in the Nashville Convention, the secession convention, and the Confederation Congress at Montgomery—all meetings discussing secession and southern nationalism. After South Carolina's secession in 1860 and during the war Edmund Rhett was Chair of the Committee on the Confederate Constitution. It was during these years that Rhett's first wife, Elizabeth Burnet, died. Katherine Herbert Dent would become the new Mrs. Rhett just a year later. 
Aside from being a planter and politician, Edmund Rhett owned a newspaper, The Charleston Mercury. The paper was a pro-southern states's right publication that often published Rhett's own anti-abolition writings. Rhett's son, Robert Barnwell Rhett Jr., would serve as the paper's editor. After the Civil War, Rhett moved to Saint James Parish, Louisiana, adding to his many landholdings. While in Louisiana, Rhett left the political arena. 
Less is known of what specifically was said in the meetings at the Maxcy-Rhett house than historians would like, as many documents were lost during the war years of Union occupation and due to a hurricane a few years after the war. However, there is a considerably large collection of Rhett papers at the University of North Carolina-Chapel Hill's library. The collections includes family and business letters, bills, and invitations. Today, the house still stands in very good condition. It operates as a very successful Bed & Breakfast in downtown Beaufort. It is a contributing property of the Beaufort Historic District, which is listed on the National Register of Historic Places.
Sources
Fant, James W. "Historic Beaufort." National Park Service - National Register of Historic Places Nomination Form. December 17, 1969. https://npgallery.nps.gov/GetAsset/d1860bd6-8965-43d7-915a-c0cec7a1be55.
"History of the Thomas Smith Rhett House, CA. 1820." Rhett House Inn. Accessed April 11, 2015. http://www.rhetthouseinn.com/inn-history.
"Robert Barnwell Rhett Papers, 1835-1880." University of North Carolina-Chapel Hill, Louis Round Wilson Special Collections Library. March 29, 2015. https://finding-aids.lib.unc.edu/03204.
Additional Information