Bob Jones University
Introduction
Founded by Bob Jones Sr. in 1927 Bob Jones University was created in reaction to the perception that higher education was becoming too secular. The University was meant to be a haven for Protestant Christians of various denominations who sought a conservative and religious education. The university continues to serve about 3,000 students. Its history is both rich and occasionally troubling, with several recent cases dealing with racial discrimination and hiding instances of sexual abuse despite the institution's avowed support of inclusion and equality.
Images
The entrance to campus at Bob Jones University.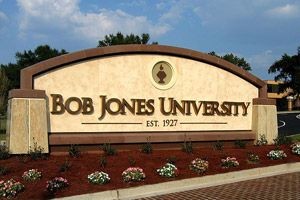 Outside the Student Union at Bob Jones University.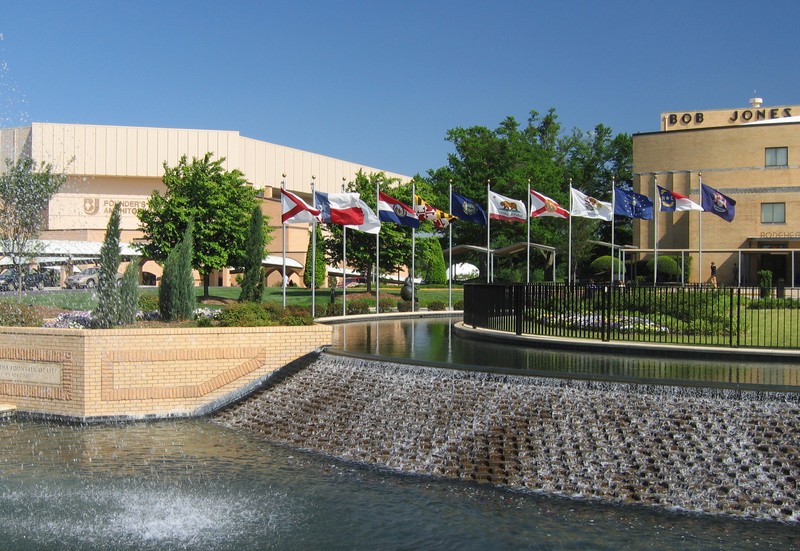 Backstory and Context
Bob Jones Senior, the university's founder, started the institution in 1927. What would become Bob Jones University in Greenville, South Carolina began as Bob Jones College in Bay County, Florida near Panama City Beach. Bob Jones was a native of Southeastern Alabama, which is where he attended high school. It was during this time Jones became licensed to preach at just 15 years old. After finishing high school Jones attended both Southern University and Muskingum College in Ohio. He graduated in 1921 just before marrying Mary Gaston of Uniontown, Alabama. Jones had formally announced himself an Evangelical in 1902. He preached about this faith in more than 30 states, making him quite well known in the religious community. Jones created the university after he'd done his touring, expressing that his travels had exposed him to "thousands of parents [wanting] a school which would combine fundamental Christian truth with higher educational standards."1 Jones also made a deliberate effort to keep university costs manageable, as he himself experienced some financial trouble during his years in college.
The school began as a small institution with just 88 students, 2 formal buildings made of wood, strongly resembling country homes both in size and style, and 4 larger stucco buildings to be used as dormitories and faculty apartments. The university also possessed a dairy barn, canning plant, and 20-acre farm. It was heavily self-sufficient, growing the food eaten by students and faculty on site; a population of mostly African-American servants preformed these farming tasks. Students also enjoyed a number of outdoor activities. The campus had a golf course and tennis courts. And with the Gulf just miles away boating, fishing and swimming were encouraged.
The university was hit hard with financial hard times after a hurricane in 1926 and the beginning of the Great Depression in 1929. They decided to move locations to Cleveland, Tennessee in 1933, and though they would be Tennessee's largest Liberal Arts college for 14 years this would not stop their third and final move from happening. The university would change locations for the last time in 1947. Bob Jones Jr. had taken over as President of the university in 1934 and had advocated strongly for the move to South Carolina.
By the 1950's the university had grown substantially and enjoyed a reputation of excellence in the conservative Christian community. However, during this time the institution would experience the first of many scandals in its history. Celebrated alumnus Billy Graham, a university board member, got in an argument with fellow members about a decision to cooperate with perceived theological liberals who might promote and potentially grow the Evangelical faith. The disagreement became very public after Graham resigned, taking other faculty members with him. The university's enrollment dropped 10% between 1956-19572 after administration made the attendance to any of Graham's "crusades"3 an offense punishable by expulsion. Though the university would overcome the bad publicity, this instance did mark the beginning of what might appear a trend of national scandal.
It is not insensible to speculate that the disagreement between Graham and other board members might have stemmed from race, as Graham was very publicly committed to integration throughout his career, and remarkably soon after this the university would face major public heat for their racial policies. The race issue would prove problematic for Bob Jones University in years to come. They had barred no other ethnic minorities from entry since the time of conception, but did not allow African-Americans admittance until 1971, despite avid debate on the issue. Upon the group's admission there were strict interracial dating laws enforced on campus. This issue would lead to Bob Jones University vs. United States in 1982, in which Bob Jones would lose its case in front of the Supreme Court. The court ultimately decided their interracial dating policy was racially discriminatory. Because the university did have a large degree of autonomy as a private institution no action to close the school could be made or to force them to alter the rule. The only action that could rightfully be taken was to change the university's tax considerations, and that is what would happen. Bob Jones would pay nearly 1 million dollars in back taxes after losing its tax-exempt status due to the IRS's change of policy in 1970.4 The interracial dating rule was not altered until 2000, due, considerably, to an influx of national attention brought on by the visit of George W. Bush.
In recent years, 2011, there has been scandal involving board member and church pastor, Chuck Phelps, who allegedly conspired to cover up a decade of sexual abuse by a male parishioner against his teenage step-daughter. The parishioner is now serving a 15-30 year sentence in jail on charges of statutory rape. Phelps was not dismissed when the victim confirmed these allegations, but only later resigned from his post of the board. There has been some student outrage at the scandal, most notably, that of Chris Peterman, a senior who was expelled in 2012 for what he says were social media posts condemning the university for allowing Phelp's continued service on the board and for its general treatment of gender on campus.5 The university's President Steve Pettit, who assumed the role after the resignation of Bob Jones III in 2013, enlisted a independent organization to investigate the matter. GRACE or the Godly Response to Abuse in the Church Environment, the independent organization hired, found in 2014 that 48% of students reported being discouraged by employees at the university to report any sort of sexual abuse. Pettit has since apologized of behalf of the university.6
Though enrollment is down since the 1970's, from nearly 3,300 students to 2,800, no one can rightfully attribute this to the recent scandals there. There has nationally been a decline in youth participation in organized religion and there are far more options out there now for a college student seeking a faith-based education. Despite these circumstances, Bob Jones has consistently grown since its inception and is still growing. Its campus now spans 210 acres. The university also has a Division 1 athletic program including soccer, basketball, volleyball, and baseball. The university has adjusted somewhat to the progressive time period, but still requires female students to adhere to a strict dress code of modesty. Male students aren't allowed to grow facial hair. All students living on campus are forbidden to go to movie theatres or listen to commentary genres of music. Bob Jones University, despite its many setbacks, still exists today with its original mission of providing affordable, conservative and faith based higher education to students who seek it. The university creed reflects this.
"I believe in the inspiration of the Bibles (both the Old and the New Testaments); the creation of man by the direct act of God; the incarnation and virgin birth of our Lord and Saviour Jesus Christ; His identification as the Son of God; His vicarious atonement for the sins of mankind by the shedding of His blood on the cross; the resurrection of His body from the tomb; His power to save men from sin; the new birth through the regeneration by the Holy Spirit; and the gift of eternal life by the grace of God."7
Sources
1- Bob Jones University. An Epoch in Education. Lynn Haven, FL: Bob Jones U, 1927. Print. 2- Turner, Daniel. Standing Without Apology: The History of Bob Jones University. pp. 179–188, 253. 3- Billy Graham has conducted a number of Evangelical campaigns in effort to promote the adoption of Evangelical Christian mindsets around the world. He personally refers to these occasions as "crusades". 4- Turner, Daniel. Standing Without Apology: The History of Bob Jones University. p. 236.. 5- Saba, Michael. "Bob Jones U. Student Denied Diploma, Alleges Retaliation for Activism - CNN.com." CNN. Cable News Network, 11 May 2012. Web. 27 Mar. 2015. 6- Saba, Michael. "Bob Jones U. Student Denied Diploma, Alleges Retaliation for Activism - CNN.com." CNN. Cable News Network, 11 May 2012. Web. 27 Mar. 2015. 7- "What We Believe." Bob Jones University. Bob Jones University, n.d. Web. 27 Mar. 2015.
Additional Information