Buffalo Bill's Grave
Introduction
The final resting place of local celebrity Buffalo Bill. This area also has one of the best views that Colorado has to offer. Partake in the cafe, the sights, and the local beauty.
Images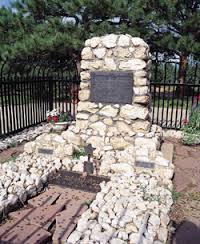 Backstory and Context
William F. Cody, also known as Buffalo Bill, was born in Scott County, Iowa in 1846. His father died in 1857 and his mother moved them to Kansas. While living in Kansas Cody worked as a messenger and wrangler for a wagon-freight company. Two years later Cody joined the ranks with the Pikes Peak gold rush as a prospector. After a short run with the gold rush, Cody answered an advertisement for the Pony Express. At the age of seventeen Cody served as a Union scout against the Kiowa and Comanche Indians. He witnessed battles in Missouri and Tennessee while enlisted with the Seventh Kansas Cavalry. When the Civil War ended Cody married Louisa Frederici from Saint Louis, he also continued to work as an Army Scout and dispatch carrier.


In 1867, Cody started hunting buffalo in order to feed construction crews working for the Kansas Pacific Railroad. Within a seventeen month period Cody stated that he had killed approximately 4,280 head of buffalo. He earned the name 'Buffalo Bill' by outshooting another hunter, William Comstock. Cody returned to work for the United States Army in 1868, serving as the chief of scouts for the Fifth Cavalry. He participated in sixteen battles including the defeat of the Cheyenne at Summit Springs in Colorado. Ned Buntline began to write tales of William Cody's alter ego Buffalo Bill making earning him the ranking of national folk hero. After Buntline created this image of a romanticized Buffalo Bill he was ranked among famous men from history such as Davy Crockett, Daniel Boone, and Kit Carson.


Starting on 1872 Cody was persuaded by Buntline to assume the character role of Buffalo Bill on stage on his play The Scouts of the Plains. Buntline and Cody had a falling out after the first production of the play however Cody continued acting for eleven more seasons. Between the theater seasons Cody returned to the west escorting rich Easterners and Europeans. Following General Custer's defeat at Little Bighorn, Cody was called to serve as an army scout in 1876.


William Cody organized Buffalo Bill's Wild West show in 1883. He attempted to capture and dramatized many elements of frontier life. Some of these included a buffalo hunt with real buffalos, a Pony Express ride, and a demonstration of Custer's Last Stand. His show toured the United States for approximately three decades. He even toured across Europe. Other stars such as Annie Oakley, Buck Taylor, and Chief Sitting Bull (for only one season) even took part in Buffalo Bill's Wild West show. In 1890, Cody was called back to serve the army after the Indian uprisings revolving around the Ghost Dance. He traveled there with a group of Indians from his show in order to serve as peacemakers. William F. Cody died on January 10, 1917 and is buried at the top of Lookout Mountain in Golden, Colorado