Sick's Stadium
Introduction
Located on the corner of South McClellan St. and Rainier Ave South in the Rainier Valley, now occupied by Lowe's Home Improvement, is the former site of Sick's Stadium or Sick's Seattle Stadium. The ballpark was opened in 1938 and sat on the former location of Douglass Field. This was the home for the minor league Seattle Rainiers of the Pacific Coast League, The Seattle Steelheads of the West Coast Baseball Association Negro League and the short-lived Seattle Pilots of the MLB. The Stadium was demolished in 1979.
Images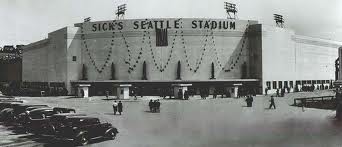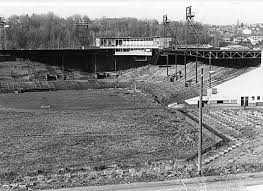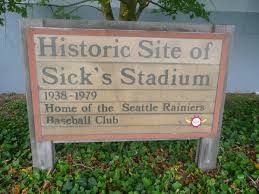 Backstory and Context
Douglass Field, the original home of the Seattle Indians, was built in 1913 and destroyed by arson fire in 1932. This laid way for the construction of Sick's Stadium in 1938 and a team name change from the Indians to the Rainiers. Opened on June 15 by Emil Sick, owner of the team and Rainier Brewing Company, the Seattle Rainiers played their first game in the 11,000 capacity stadium. This would remain the team's (re-named Angles in 1964) home until 1968.
Sick's Stadium also played home to a few other short lived ball clubs. In 1946 the Seattle Steelheads of the West Coast Baseball Association Negro League would play their home games there when the field was not occupied by the Rainiers. By 1965 the park had been sold to the city of Seattle and in 1969, with the new American League expansion in the MLB, Seattle would have it's first professional baseball team. The short-lived Seattle Pilots lasted one season inside Sick's before becoming bankrupt and moving to Milwaukee and becoming the Brewers. Although thought to one of the best minor league stadiums in it's day, it proved to be unfit for major league crowds. From 1972 to 1976 the new Seattle Rainiers of the short season class A Northwest League moved into the ballpark and in 1973 the Washington Huskies used the field while their home filed, Graves Field, was being renovated.
Sick's also played host for rock concerts and icons such as Elvis in 1957 and Jimi Hendrix and Janis Joplin in 1970. Also notable is the 1957 boxing match between Floyd Patterson and Pete Rademacher as well as the 1970 bout between Sonny Liston and Eddie Machen.
The stadium was ultimately demolished in 1979 and became the site of an Eagle Hardware in 1992. By 1999 the site was occupied by a Lowe's Home Improvement but not without tribute to Sick's stadium. The ballpark is marked by a sign near the exit of the store and the bases and pitching mound are marked inside the store. Also inside the store is a display case featuring mementos from the Pilots, Rainiers and Angels.
Sources
Seattle Pi http://blog.seattlepi.com/thebigblog/2011/06/12/seattle-history-the-stadium-site-thats-now-a-hardware-store/#80101=0 ballparks.com http://www.ballparks.com/baseball/american/sickss.htm ballparksofbaseball.com http://www.ballparksofbaseball.com/past/SicksStadium.htm http://en.wikipedia.org/wiki/Sick%27s_Stadium
Additional Information