Jack Trice Football Stadium
Introduction
Iowa state which had the first African American football player in the school history in 1923 played in his first football game on October 6, 1923 . Johnny Jack Trice played for the cyclones against the University of Minnesota in which he was crushed and suffered a broken collarbone and died from internal bleeding 2 days later.
Images
Jack Trice prior to the 1923 season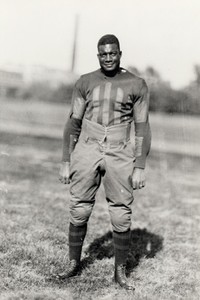 Monument erected by the student body in honor of Jack Trice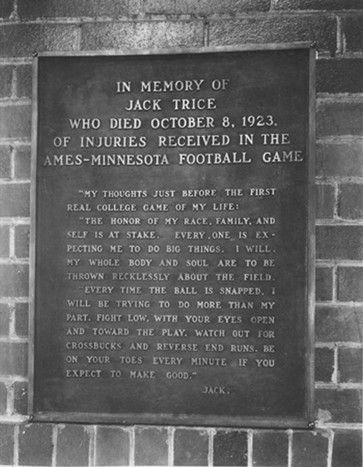 Backstory and Context
Johnny ( Jack) Trice was born in Hiram, Ohio in 1922 . As a child he was active in sports and demonstrated outstanding athletic prowess at an early age . In 1918 Trice's mother sent him to Cleveland , Ohio to live wit his uncle. He attended East Technical High School where he then began to play football. In 1922 Trice followed 5 of his teammates and former high school coach, Sam Willaman who took the coaching job at Iowa State College. Trice then became the first African American athelete at Iowa State , participating in track and football . He majored in animal husbandry,n with the desire to go to the south and help Black farmers with his knowledge .
On October 6, 1923 Jack Trice played in his first ''real '' college football game against the University of Minnesota in Minneapolis, Minnesota . During the second play of the game, he broke his collar bone. Insisting he was alright and returned to the game . Then in the third quarter , University of Minnesota players forced Trice to the ground which resulted in him being crushed.Trice claimed to be fine but was sent to an area hospital , where the doctors deemed him to be fit for travel. Trice returned to Ames Iowa with his teammates to which he died 2 days later from internal bleeding due to injuries received during the game .
In 1973 , Jack Trice's legacy was renewed and a promotion to name the stadium at Iowa State stadium after him . In 1974 , the Iowa State University student body voted unanimously to endorse the effort in which 3,000 signatures in favor of the naming of the stadium .In 1984 the stadium was named Cyclone Stadium and the field was named Jack Trice Field . The student body wanting to do more raised money to erect a monument to honor Trice in 1987. final in 1997 after much persistence from faculty and student body the stadium was named after Jack Trice .
This resulting in the only collegiate field in the United States named after an African American in division 1 standings.
Sources
Iowa State university Archives Iowa State University Library RS13/511