"Pre's" Rock ( Steve Prefontaine Memorial)
Introduction
"Pre's" Rock is the site of a roadside memorial of Steve Prefontaine. Steve Prefontaine, he was known as "Pre" to many, was an American long-distance runner and most say was responsible for the "running boom" of the 1970s. He was tragically killed on May 30th, 1975 in an automobile accident. The site is visited by many people from all across the world. Running enthusiasts and competitors often leave their running shoes or racing memorabilia at the site to honor him. As with most tragic deaths, controversy soon followed as to what exactly happened just after midnight at what is now known as "Pre's" Rock. Along with where and how he died, he will be remembered for what type of person he was. Steve Prefontaine was a strong-willed, stubborn, competitive person with the heart the size of an elephant. He will be remembered for not only his records but also how caring he was as well.
Images
"Pre's" Rock Memorial Plaque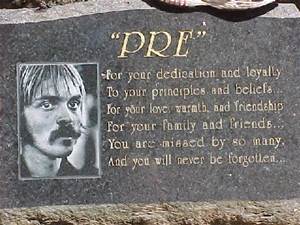 Fatal Accident at "Pre's Rock"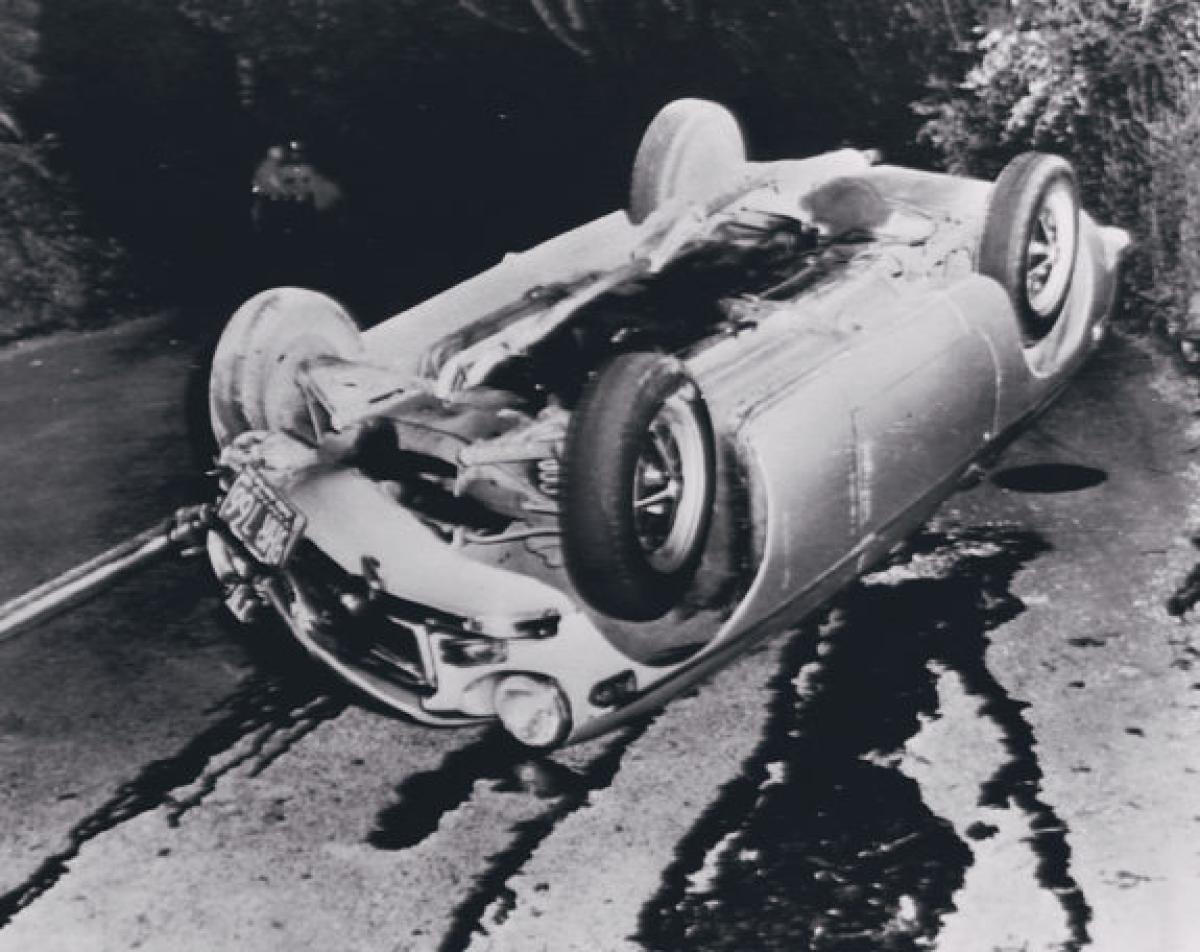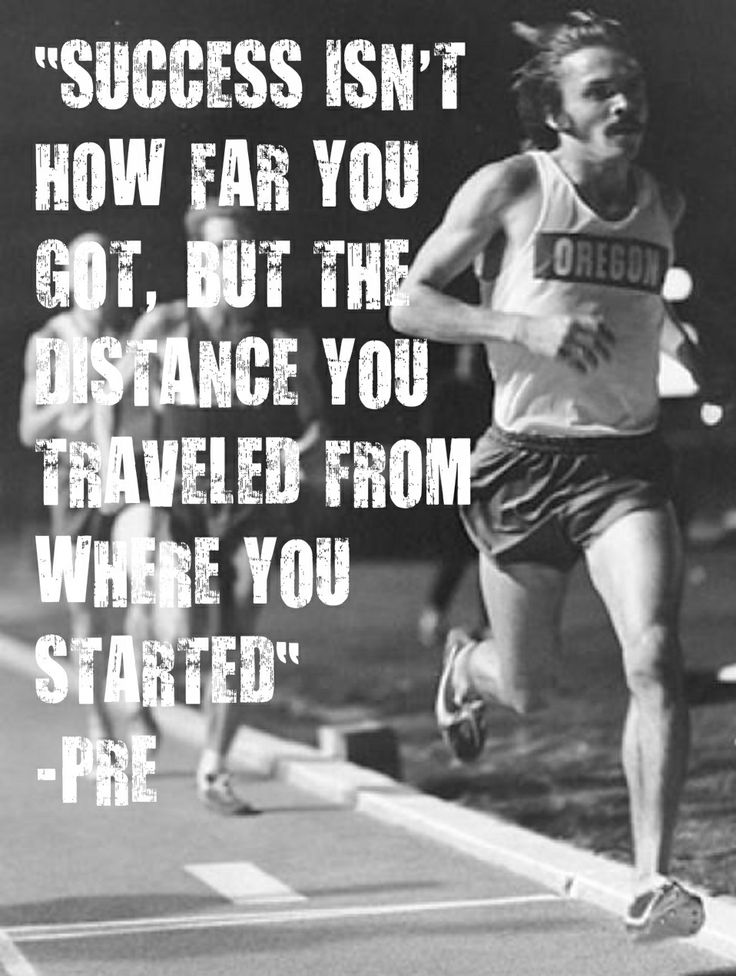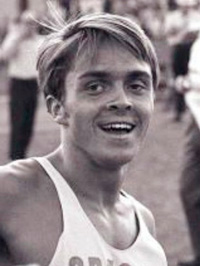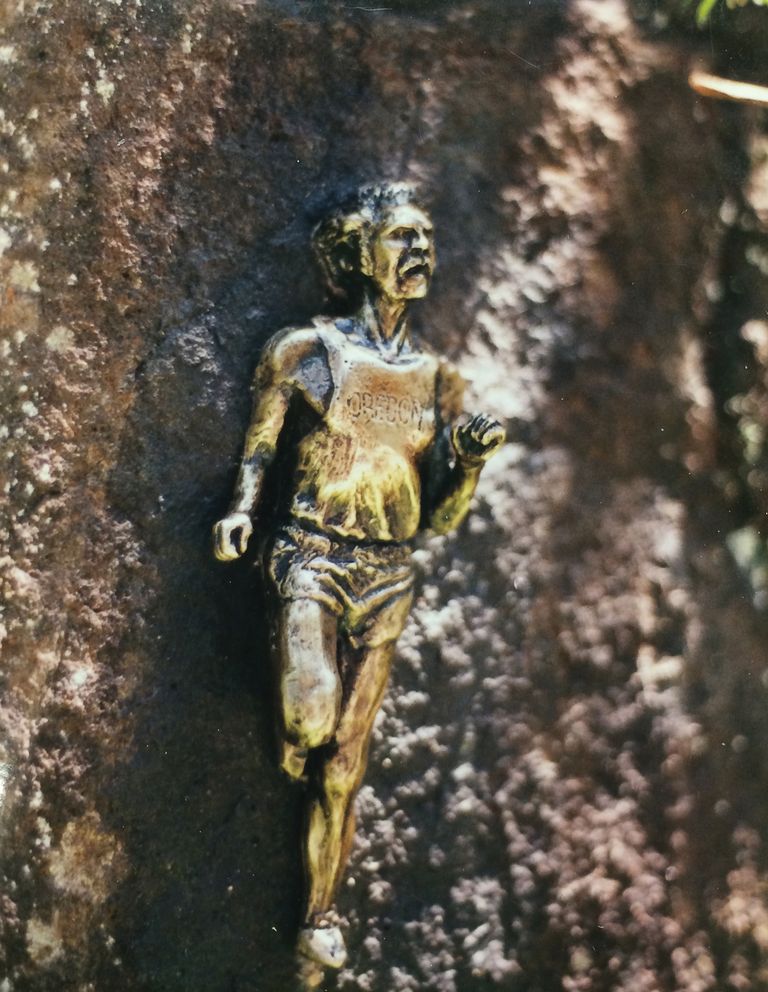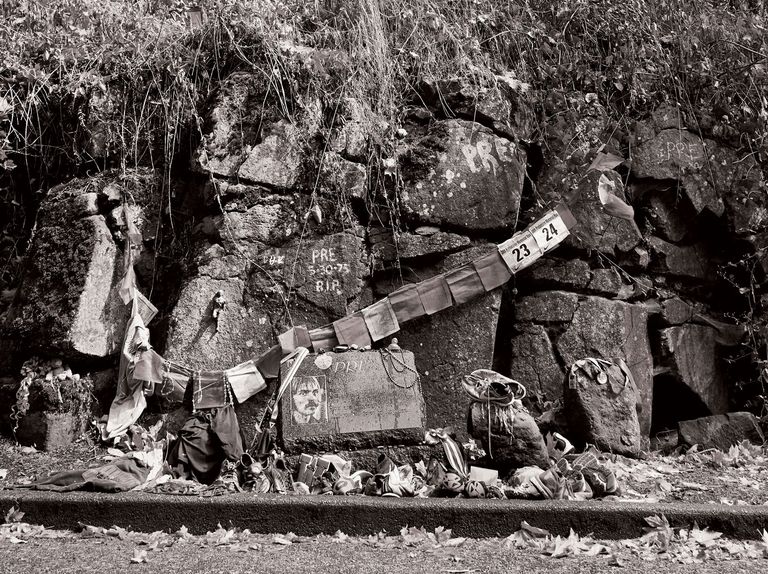 Backstory and Context
The events that took place on May 29, 1975 have been well documented. " It was Prefontaine who arranged a track meet between Finnish and U.S. athletes on May 29, 1975, in Eugene. In his last race, Prefontaine beat his good friend, Frank Shorter, in the two-mile run, although he fell a few seconds short of his own American record in that event."1 Following the event Prefontaine and Shorter attended a local party. After the party, Prefontaine was said to have dropped Shorter off at the home of a former Olympic runner and Sports Illustrated writer in the Eugene area. It was a short time later that his life would end and many skeptics would question what had happened.
The section of the road on Skyline Blvd. where Prefontaine wrecked is, by all accounts, a treacherous road that requires a driver's full attention. The speed limit is reportedly 25 m.p.h.. This was a road Prefontaine had driven and even ran many, many times. Coming around the blind curve on Skyline Blvd. shortly after midnight Prefontaine's yellow/bronze MGB went into the other lane, through the curb and into a solid rock embankment. The car flipped upside down pinning Prefontaine underneath. He was pronounced dead at the scene of the accident.
The rumors began soon after and one account of the accident, which happened within 100 yards of his residence, was that there was another MGB that would have passed Prefontaine going in the opposite direction near the exact time of the accident. Some wondered if this MGB had drifted into Prefontaine's lane causing him to swerve to the left and into the embankment. Some of the Prefontaine supporters also questioned the way that the blood-alcohol test had been handled. Prefontaine was found to have a blood-alcohol level of .16 by a mortician and not the medical examiner. His test was also released to the public which was not normal in 1975. A Lieutenant with the Eugene Police Department had stated that what he could recall most about the incident was the strong smell of alcohol at the scene but no cans or containers were ever found. People at the party that were with Prefontaine stated that he had consumed 4 to 5 beers over several hours while there.
Steve Prefontaine "Pre" will be remembered as one of the greatest long-distance and track and field athletes that America has ever had. At one time he held 7 American records ranging from 2,000 meters to 10,000 meters. He never lost a collegiate race while at the University of Oregon. He was considered to be one of the favorites in the upcoming 5,000 meter race in the 1976 Olympics.  All of these things will be remembered as well as the events that led up to his untimely death and the events that "really" happened at "Pre's" Rock. 
Some things that Pre will be remembered by:
Overall Records: He owned every (8) American record between 2,000 and 10,000 meters and between two miles and six miles. He also held eight collegiate records while at Oregon, with his three-mile (12:53.4) and six-mile (27:09.4) still standing. During his career, he broke his own or other American records 14 different times, broke the four-minute barrier nine times, ran 25 two-mile races under 8:40 and 10 5K races faster than 13:30.
Olympics: He competed at one Olympiad, the 1972 Summer Games in Munich, when he was 21 years old -- two years younger than anyone else in the 5,000-meter field. Taking the lead with a mile to go, and holding it until less than 600 meters remaining, he ultimately finished fourth (13:28.25) behind Lasse Viren of Finland (first, 13:26.42), Mohamed Gammoudi of Tunisia (second, 13:27.33) and Ian Stewart of Great Britain (third, 13:27.61). Stewart passed Prefontaine less than 10 meters from the finish line for the final medal.
The Activist: Not afraid to speak out against injustice, Prefontaine was an activist and reformer in various areas. In the community, he often volunteered at Roosevelt Junior High School and at the Oregon State Prison (even starting a running club while corresponding with many of the inmates). One of Pre's most famous stances was against the AAU, the American track and field governing body, and its treatment of amateur athletes.
Besides the books, movies and magazine mentions, tangible evidence of Pre's impact can be found in the Steve Prefontaine Memorial Jogging Trail, nine and a half miles of wood chip path that winds through Alton Baker Park in Eugene. The Prefontaine Classic track meet, held annually at Hayward Field at the end of May, features the best mix of American and international talent on American soil. Statues commemorating him stand at the Nike corporate headquarters in Beaverton (he was the first athlete to sign with the company for $5,000 in 1974), the site of his fatal car accident in Eugene (near Hendricks Park near the intersection of Skyline and Birch Drives), and in his hometown of Coos Bay. A documentary narrated by Ken Kesey and entitled "Fire on the Track: The Steve Prefontaine Story" came out in 1995. A Hollywood Prictures movie, 'Prefontaine' was released in the fall of 1996, while a second movie produced by Warner Brothers, 'Without Limits' was released in 1998.
Sources
Scott, Gerald. The Legend Lves On. Los Angeles Times. May 06, 1985. Accessed October 15, 2018. http://articles.latimes.com/1985-05-06/sports/sp-4511_1_prefontaine-memorial/3.
"Steve Prefontaine Bio & Pix." University of Oregon Athletics, https://goducks.com/sports/2003/12/18/30594.aspx.
Dennehy, Cathal. "On Anniversary of Prefontaine's Death, His Family Shares Touching Memories." Runner's World, Runner's World, 14 June 2019, https://www.runnersworld.com/news/a20804869/family-members-share-memories-of-pre/.
Strout, Erin. "In Pre's Hometown, a New Tour Shows Where the Legend Was Born." Runner's World, Runner's World, 11 June 2019, https://www.runnersworld.com/news/a20858873/in-pres-hometown-a-new-tour-shows-where-the-legend-was-born/.
Butler, C. (2019, October 21). The Secret of Pre's Rock. Retrieved from https://www.runnersworld.com/runners-stories/a19448537/secret-pres-rock/.
Image Sources
Butler, C. (2019, October 21). The Secret of Pre's Rock. Retrieved from https://www.runnersworld.com/runners-stories/a19448537/secret-pres-rock/.

Butler, C. (2019, October 21). The Secret of Pre's Rock. Retrieved from https://www.runnersworld.com/runners-stories/a19448537/secret-pres-rock/.

Additional Information